War crime? Syrian rebels execute POWs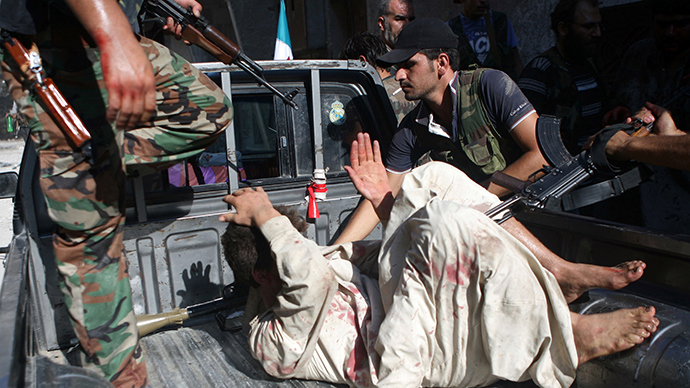 A horrifying amateur video from Syria emerged online, showing an apparent mass execution of Assad supporters in Aleppo at the hands of rebels from the Free Syria Army.
The footage shows several bloodied men stripped down to their underwear being forced to kneel by a wall amidst a throng of excited, machine gun-touting men.
Once their captors open fire, the camera jerks away as the crowd momentarily disperses, seemingly unprepared for the nearly 40 seconds of uninterrupted shooting that follows. As the gunfire dies down, shouts of "Allahu Akbar!" resound as the once skittish onlookers victoriously raise their guns in the air, approaching what appears to be a pile of stripped-down corpses.
One of the victims has been identified as Ali Zein Al-Abidin Al-barri; the rebels accused him and his family of killing 15 FSA soldiers during a truce in Aleppo on Tuesday.
The video depicting the apparent massacre has not been verified, though the UK-based Syrian Observatory for Human Rights said such vengeance was a crime as Islamic law does not authorize the execution of prisoners.
Clive Baldwin, a senior legal adviser for Human Rights Watch (HRW), told BBC News: "What it looks like is execution of detainees and if that is the case, that would be a war crime."
Russia's Deputy Minister of Foreign Affairs Gennady Gatilov condemned the shooting. "The brutal massacre of government supporters by the opposition in the city of Aleppo shows that human rights violations are being committed by both sides," he wrote on Twitter.
It is not the first time that reports have emerged of rebels carrying out executions against pro-Assad forces without trial.
Ahmed, a rebel fighter from the Amr bin al-Aas brigade which operates in the Syrian town of Azaz, recounted the execution of a Syrian army sniper named Rami who was shot dead after a graveside "trial," Reuters reports.
Ahmed says Rami was firing from the top of a high minaret at a local mosque before he was captured.

"We took him right to his grave and, after hearing the witnesses' statements, we shot him dead," the agency sites Ahmed as saying.
Ahmed made it clear that his forces often capture "handfuls of soldiers" in battle, saying that his men would create courts for the captured men and execute them.
However, when pressed on the specifics of creating makeshift courts to justify killing those captured in battle, Ahmed remained stoic.

"The culture of lawyers has long passed. I mean a guy like that," Ahmed said, referring to the slain sniper Rami, "what do you think his fate should be?"
Such extra-judicial killings might be a sign of things to come if the 17-month uprising against President Bashar al-Assad spins further out of control.
Asia Times Online correspondent Pepe Escobar told RT that such massacres occur "all the time" in today's Syria. He believes, however, that summary executions of this nature will push minorities to fight against the rebels.
"I received this video from a source in Arabic, and then I asked for a translation. This is a very important clan in Northern Aleppo. Some of them were executed in cold blood, this is what this two and a half minute video shows. This is an extended clan. They have like 20,000 brothers, sisters and extended family in this tribal clan," Escobar said.
"So this means that all of these people, instead of being recruited to the opposition, now they will fight the opposition because they are being executed in cold blood. This explains, among other things, why Christians all over Syria are taking up arms to defend themselves. Because they know if there is a post-Assad controlled [government] by Sunni hardcore elements, including Salafi jihadists, they are going to be unprotected minorities. At the moment they are protected minorities under the Assad regime," he continued.
You can share this story on social media: