Turkey sets up secret anti-Assad rebel base with Saudi Arabia and Qatar - reports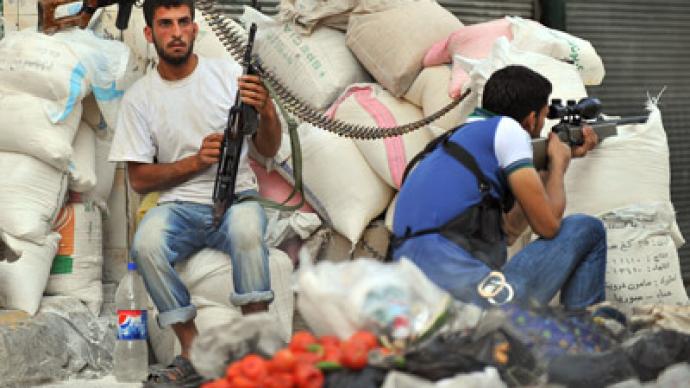 Turkey is directing the rebel fight against Bashar Assad, after setting up a secret base on its border with Syria, with help from Qatar and Saudi Arabia. It devises tactics and supplies weapons for the uprising, according to Reuters sources.
It is unclear how long the base, described as the "nerve center" of the anti-Assad campaign has existed, and its location is given only as Adana, a city some 100 kilometers away from the border. Adana is home to Incirlik, a huge air base run jointly by Turkey and the United States, though it is not clear whether it was used for this operation."Three governments are supplying weapons: Turkey, Qatar and Saudi Arabia," said the source, reportedly based in Doha, the capital of Qatar.The source claims the base was set up at the request of Saudi deputy foreign minister Prince Abdulaziz bin Abdullah al-Saud during his visit to Turkey, which was open to the idea. Turkey then took control of operations once the base was established."It's the Turks who are militarily controlling it. Turkey is the main coordinator/facilitator. Think of a triangle, with Turkey at the top and Saudi Arabia and Qatar at the bottom."Disunited and badly trained when the uprising against President Assad began 18 months ago, recently Syrian rebels have had a string of successes against the supposedly better-trained and better-equipped regular soldiers. They have held down large parts of the country and advanced on the capital Damascus earlier in July. An audacious suicide attack last week took out four of the most senior security officials in the Assad circle.These successes may have been made possible by the steady flow of arms from the Adana location, most of which appear to have been purchased illegally to cover the sponsors' trails."All weaponry is Russian. The obvious reason is that the Syrian rebels are trained to use Russian weapons, also because the Americans don't want their hands on it. All weapons are from the black market," claims the source, which says arms are also obtained by looting loyalist weapons stores.Ankara has enjoyed a difficult diplomatic relationship with Assad, whose family has been in charge in Syria for 40 years, and so immediately backed the uprising. At the same time, Ankara has staunchly denied arming the rebels. It has also condemned the suicide attack on ministers as an act of terrorism.Meanwhile, the small but wealthy state of Qatar has already played a key part in helping topple the regime of Muammar Gaddafi in Libya last year, and was widely suspected of being involved in the Syrian civil war.Although the three countries involved have long been accused of arming the rebels, this is the first time specific information has emerged about a concrete center of operations.Turkey has also stepped up the war-mongering rhetoric against Syria, threatening to strike across the border. Ankara says it is alarmed by what it calls Kurdish terrorists who have established a foothold in northern Syria with a view to declaring autonomy.Dr. Ali Mohamad, editor-in-chief of the Syria Tribune blog, believes Turkey and the Gulf States are acting far beyond international law."Saudi Arabia and Turkey seem to like the idea of the Middle East being controlled by the Muslim Brotherhood, which they can control easily," he told RT. "Thinking that this is their battle, it seems, gives them the privilege – that's what they think. Nothing allows them to do so. This is against international law… And the question is, are they going to get away with this?"America looks onThe Adana operation is notable not only for who is involved, but also for who isn't."The Americans are very hands-off on this," alleges the source, "US intelligence are working through middlemen."The source claims Turkey has been "begging" for high-tech surveillance equipment, such as drones, but their pleas have gone unheard in Washington.The United States has backed the rebels throughout the conflict. It has used utmost diplomatic pressure through the UN and conferences with allies to force Assad to leave his position, something the Syrian president says he will not do without negotiation. It has also provided money and expertise for the opposition.However, government insiders have repeatedly expressed reservations about the fractious union of Assad enemies, many of whom are radical Islamists likely to be as opposed to Washington as Assad ever was. It has used utmost diplomatic pressure through the UN and conferences with allies to force the Syrian President to leave his position as an unconditional part of any peace settlement, something Assad says he will not do. Similarly, Syria has an impressive stockpile of chemical weapons that could pose a deadly terrorist threat in the wrong hands.Dennis Ross, who advises Obama on Middle East policy, has summed US policy as "adopting the least bad option."Yet US involvement may now grow significantly, after Reuters reported that a recently adopted presidential directive will allow US foreign agencies to directly assist the rebels, perhaps even at Adana, although there are no plans to supply them with weapons, despite repeated requests."I have to say that we are also increasing our efforts to assist the opposition," Secretary of State Hillary Clinton proclaimed publicly on Tuesday.