Israel may use military force 'to secure' Syria's alleged chemical arsenal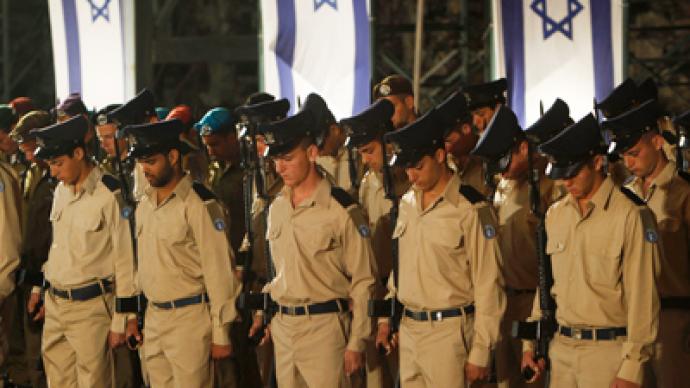 The Israeli army is considering using military force to prevent Syria's alleged chemical warfare stockpiles from getting into the hands of Hezbollah or Al-Qaeda. Tel-Aviv believes that Damascus is no longer capable of securing its arsenal.
Syria has never declared it possesses chemical weapons stocks, but the Israeli military does not put its existence under question. Tel Aviv believes Syria has been busy producing mustard and nerve gas for the last 40 years.On Monday Israeli Maj. Gen. Yair Naveh, the country's deputy military chief, warned that Syria could pose a threat to Israel with its chemical weapons. He declared Syria has "the largest chemical warfare stockpiles in the world," and warned that Assad's regime could "treat us the same way they treat their own people."Some Israeli politicians claim the Syrian government is already using chemical weapons against its population. A senior member of the ruling Likud party, Ayoob Kara, told Israel Radio on June 9 that the Syrian government is using "chemical weapons against men, women, and children."They have become the latest in the chorus of Israeli high ranking officials who have rushed to voice their concerns over Syria's alleged chemical arsenal. The head of Israel's Northern Command responsible for the front that borders Lebanon and Syria, Maj. Gen. Yair Golan, warned that Assad's regime could pass its chemical weapons to Lebanon-based Hezbollah if the regime of President Bashar al-Assad crumbles under the militant attacks that have lasted for over a year now. According to the general, this could happen if Assad's regime loses control over its military bases. Simultaneously, Maj. Gen. Golan openly called Syria a "failed state."Israel would not mind if international forces invade Syria to oust President Assad.Israeli Deputy Prime Minister Shaul Mofaz believes the world should unite to crush Assad's regime, the same as it did in Libya, where coalition forces overthrew Colonel Muammar Gaddafi."A crime against humanity, genocide, is being conducted in Syria today. And the silence of the world powers is contrary to all human logic," Mofaz announced."Since in the not-distant past the powers chose military intervention in Libya, here the required conclusion would be immediate military intervention to bring down the Assad regime," he said.But he made it clear that Israel would not take part in the intervention."We cannot get involved, for understandable reasons. But I think that the West, led by the United States, has an interest in guarding the threshold (so) genocide does not take place," Mofaz told Reuters.Israeli Prime Minister Benjamin Netanyahu has been more cautious in his remarks, telling Bild newspaper that the military intervention is "a decision for the leading powers who are now talking about it." He added that the less he says about it as prime minister of Israel, the better. However, he used the opportunity to link alleged crimes of the Syrian regime with Israel's arch-enemies."This is a slaughter carried out not only by the Syrian government. It is being helped by Iran and Hezbollah," he said in broadcast remarks to his cabinet on Sunday.The international pressure on President Bashar al-Assad's regime has been mounting for the last 15 months, but Israel has only recently openly added its voice to anti-Assad rhetoric.Meanwhile, recently information surfaced about armed Syrian opposition planning a provocation with the use of chemical weapons. Reportedly, they have obtained chemical weapons from Libya and plan to use it against Syrian civilians, shifting the blame for the atrocity on the government forces.In the light of the recent Israeli rhetoric over Syria's alleged chemical stockpile threat, fears arise that the chemical weapons ghost story might become an excuse for a foreign intervention into the country. There has already been a precedent when the alleged weapons of mass destruction were used as an excuse for a foreign military intervention in Iraq.The international military operation against regime of Saddam Hussein in 2003 was officially aimed at stripping the dictator of weapons of mass destruction – which were never found – while Saddam was hanged by hasty executioners after a short trial.
You can share this story on social media: