​No date set for further talks as Geneva 2 peace negotiations stalling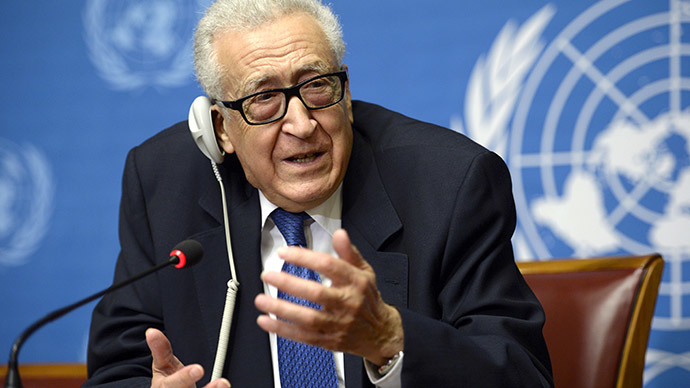 Syrian government and opposition have not agreed a date for a third round of negotiations in Geneva at the final session of the second round. The UN-mediated talks were conducted in a tense confrontational manner with little tangible progress.
The 90-minute meeting between the delegations on Saturday came the sixth and final scheduled day of the second round of negotiations.
"It was a short, tense session, dominated by differences over how to tackle the issues of violence and political transition. [UN special envoy for Syria Lakhdar] Brahimi set no date for a third round, but he made it clear he expects there will be one," opposition negotiator Ahmad Jakal said.
Brahimi later said he expects the third round to happen, but was not prepared to set an exact date for it.
"I will discuss the situation with UN Secretary General Ban Ki-moon. I believe we need to discuss it in a trilateral format with US Secretary of State John Kerry and Russian Foreign Minister Sergey Lavrov," he said.
He added that he has a four-point agenda for the next round, which includes fighting against terrorism, a transitional government, national institution building and national dialogue. Brahimi said both the government and the opposition agreed to the agenda.
The talks organized by the US and Russia have been very difficult so far, to say the least. The Turkey-based opposition, which aims to speak on the behalf of most of the opposition forces in Syria, insists that the negotiations must focus on the stepping down of Syrian President Bashar Assad and the forming of a new transitional government.
The delegation from Damascus wants the security issues to be tackled first. It's not clear whether the opposition delegation actually has clout on the ground in Syria enough to make the armed opposition forces follow any agreement passed at the negotiations.
As the talks remain stalled, the US has been voicing increasingly irritated statements towards the Damascus. The latest threats came Saturday from President Barack Obama, who said he is eyeing steps to "apply more pressure on the Assad regime."
You can share this story on social media: