Syrian opposition agrees to attend Geneva talks with preconditions – SNC statement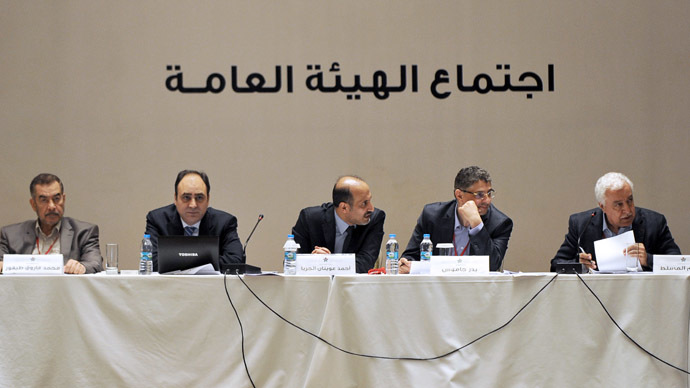 The Western-backed Syrian opposition group has agreed to participate international peace talks, outlining conditions that must be met before they attend in Geneva, the group said in a statement.
The Syrian National Council is demanding a guarantee that relief agencies will get unhindered access to rebel-held areas of Syria, Reuters reports citing the statement. The group also demanded the release of political prisoners.

The creation of transitional ruling body in which the current government should not have a role remains the opposition's main goal.
"All we can do is hope is that these talks will end with the departure of Bashar al-Assad," said Adib Shishakly, a member of the coalition told Reuters.
The consensus in the SNC was reached after two days of discussions over the weekend.
On Saturday, the SNC leader Ahmad Jarba indicated that the group was willing to take part in the talks if the West kept its promise to organize 'humanitarian aid' corridors to the rebel forces on the ground.
"In a closed meeting in London, John Kerry, Mr Hague and the other Friends of Syria ministers promised us that they would solve this issue before Geneva. They have not solved it yet," Jarba said in an interview with the Sunday Telegraph.
The Friends of Syria group and opposition leaders produced a resolution after a meeting in October, stating that President Bashar Assad has no role in the country's future and pledging support for the Syrian "moderate opposition" which they claimed to separate from the Islamic hard-liners increasingly dominating the forces fighting against the Syrian government.
Following that meeting, Moscow blamed the group for attempting to revise key elements of the Geneva communique of 2012 - the only platform to achieve a political settlement in Syria - and undermine the Geneva 2 conference.
The SNC with no real influence on the ground should not be used as an umbrella for the entire opposition in Syria, the Russian Foreign Ministry said, as "there is no evidence to suggest that the coalition is the sole legitimate representative of either all Syrian people or even the opposition as a whole."
Russia has long insisted that the Syrian opposition should formally agree to attend Geneva talks without any preconditions and that it was the West's responsibility to force them to form a delegation, while Russia in its turn ensures Syrian government participation.