UN, Arab League to get stronger observer mandate in Syria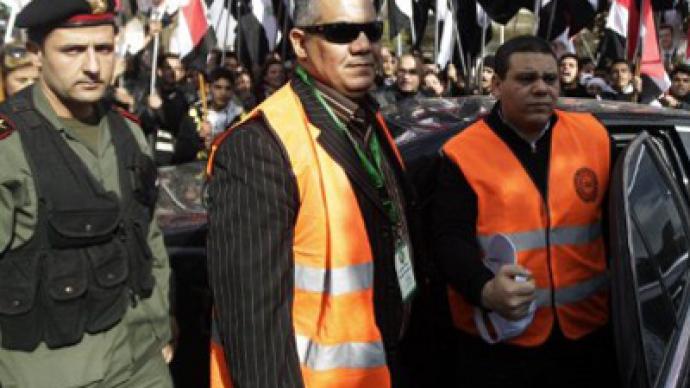 The Arab League and UN are considering a joint mission to Syria. It must be stronger in numbers and equipment, and the mandate different. President Assad agreed to resume the mission during the Russian foreign minister's visit to the embattled state.
The UN chief told reporters that Arab League Secretary, General Nabil al-Arabi intends to revive the Arab League observer mission in Syria.  "Al-Arabi informed me that he intends to send the Arab League observer mission back to Syria and asked for UN help," Ban Ki-moon said on Wednesday.Ban Ki-moon said the United Nations was ready to help, but indicated no decision had been taken."In the coming days we will further consult the [Security] Council before fleshing out details. We stand ready to assist in any way that will contribute towards improvement on the ground and to the overall situation."A new mission, however, is intended to be sent under different terms and with more members."If we are going to send another mission, and we are contemplating that, it has to be stronger in numbers and in equipment. The mandate has to be different," Nabil al-Arabi said in a Reuters interview in Cairo, adding it would need international not just Arab backing this time.Arab League Secretary however mentioned any new monitoring mission would require Syria's approval.The Syrian leader said he is ready for a revival of international observer mission in the country as a result of his negotiations with Russian Foreign Minister Sergey Lavrov, who visited Syria on Tuesday. The 165-member Arab League mission first went to Syria in December. However, the process was frozen on January 28 due to the escalation of violence in the country. Six Gulf Arab states, Jordan and Morocco have withdrawn their teams, but other members are still in Syria.
UNSC failure disastrous for the people of Syria – UN chief
Ban Ki-moon also expressed regret over the UN Security Council's failure to reach an agreement on a resolution on Syria. "I deeply regret that the Security Council has been unable to speak with one clear voice to end the bloodshed," he said. "The failure to do so is disastrous for the people of Syria. "On Saturday, Russia and China vetoed the latest UN Security Council resolution on the ongoing violence in Syria.  The draft left out sanctions on the opposition alongside those on the Assad government, and also omitted Russian proposals. Moscow said the document did not realistically reflect the situation in Syria, and as a result could have sent an unbalanced signal to all sides of the conflict.
You can share this story on social media: