West aims to strengthen 'moderate' rebels, as Islamists take center stage in fight against Assad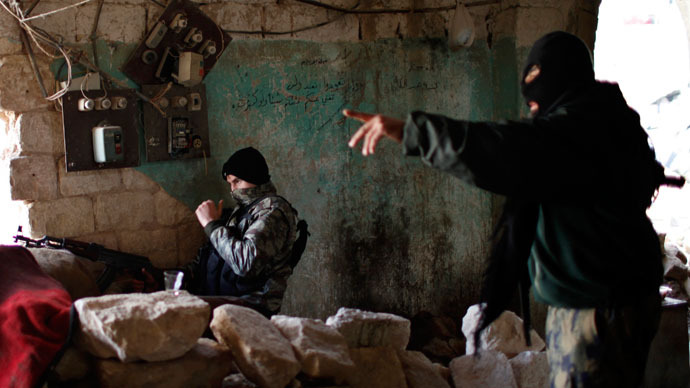 The G8 summit remains divided over providing extra aid to Syrian rebels as radical groups threaten to turn Syria into a cradle of jihadism. Russia voiced concerns of "double standards" after a Syrian rebel group openly proclaimed links to Al-Qaeda.
Imminent increases in non-lethal aid – which can, however, include items such as body armor, hi-tech battlefield gadgets and uniforms - were much-discussed at the two-day London meeting of foreign ministers from the world's leading nations.
In a statement issued on Thursday, the G8 nations said they are "appalled" at the humanitarian toll of the Syrian conflict. The statement "called for greater humanitarian assistance and for improved and safe access to the Syrian people by humanitarian agencies in co-ordination with all parties to the conflict," but did not specify any unified view on aiding the opposition forces, as the eight nations' opinion on assisting and arming the rebels remains divided.
Russia has expressed concerns over Al Qaeda's increased interest in Syria, and noted "indications of double standards" from some countries regarding the dangers of plans for a "jihadist" Syrian state voiced by leaders of international terrorism.
Jabhat Al-Nusra's leader "has publicly confirmed" that the group's militants obey orders issued by Sheikh Zavahiri and are loyal to Al-Qaeda, Russian Foreign Ministry deputy spokesperson Maria Zakharova said in a statement posted on the ministry's website.
"We are also alarmed by the fact that the statements by some Syrian opposition leaders of their ideological differences with Jabhat al-Nusra is not preventing their armed units from acting as 'brothers in arms' and fighting against the lawful government of Syria hand in hand with international terrorists," Zakharova added.
"In this regard, we regret that the approaches of some of our partners on the international and regional arenas appear to have indications of double standards, when open attacks by terrorists are not adequately evaluated," the Russian Foreign Ministry spokesperson said.
The United States – which has already distributed more than $400 million in Syria, mostly in humanitarian aid – pledged an extra $60 million to help the Syrian rebels less than two months ago.
"Our assistance has been on an upward trajectory, and the president has directed his national security team to identify additional measures so that we can increase assistance," a senior White House source told the New York Times.
While the pro-opposition states referred to the aid as an act of charity (Hague spoke about "saving Syrian lives" during "the greatest humanitarian catastrophe of the 21st century so far") Western states are also pursuing tactical and political objectives.
Namely, trying to make the ragtag opposition forces a match for the better-equipped standing army of Bashar Assad, while simultaneously making sure they do not arm or empower extremist rebels.
And the problem of friends who are worse than enemies (for the West) appears to be spiraling out of control.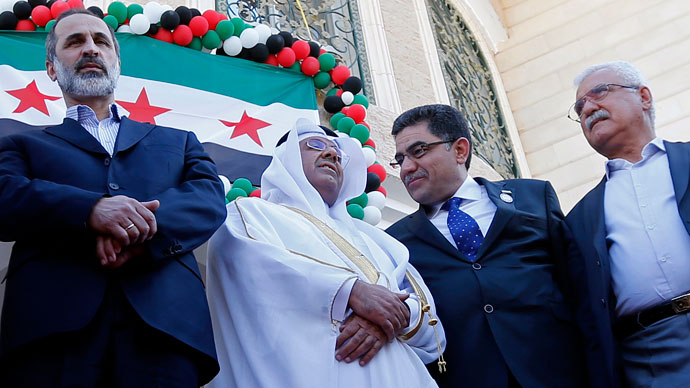 Earlier this week, Al-Nusra, considered one of the most effective opposition military units (perhaps unsurprisingly, considering its make-up of more experienced fighters, often with international 'experience') officially declared that it was pledging allegiance to an Al-Qaeda affiliate in Iraq, the Islamic State in Iraq.
"We don't support the ideology of Al-Nusra," Louay Meqdad, spokesman for the largest rebel group, the Free Syrian Army (FSA) told the AFP news agency, while LCC, another leading faction, said "only Syrians will decide the future of their country".
But whether it approves or not, FSA and LCC, themselves heterogeneous groups containing genuine moderates and 'moderate' Islamists, are finding themselves increasingly sidelined in the conflict, both ideologically and militarily, as soldiers and money pours in from outside actors from across the Muslim world.
Additional European and US aid could bolster the positions of the opposition the West finds acceptable.
Yet those same opposition leaders – who held meetings with Western ministers while in London – believe that only sustained provisions of heavy weaponry, such as anti-aircraft an anti-tank rocket launchers will allow them to emerge victorious in the conflict that has lasted over two years. But, U.S. Secretary of State John Kerry made "no promises" during the face-to-face discussions, according to US officials, largely for fear that any weapons might fall into the hands of the radicals.
The West may, however, start to supply its preferred opposition factions with weapons in the coming months, if either Assad or self-professed Islamists take the upper hand in the conflict.
White lists and black lists of opposition groups have been drawn up in Washington, while the UK has openly said it will supply arms to the rebels, with France considering the option. As of now, both countries are restricted by an EU-wide embargo that will expire at the end of spring.
More interventions are likely to be discussed, when the pro-opposition Friends of Syria group of countries next meet in Istanbul on April 20.