At least 8 dead in Damascus car bomb blast – reports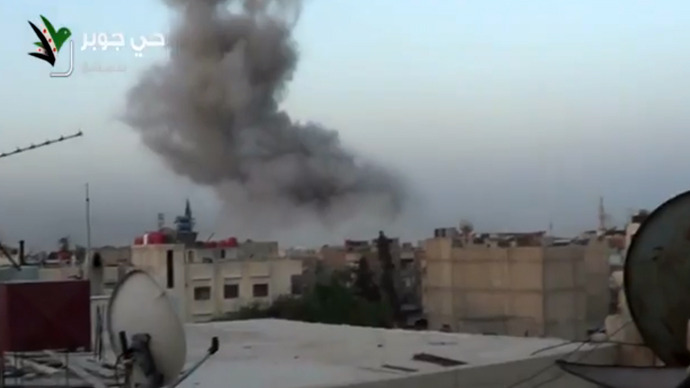 Eight security personnel have died in a car bomb blast at a police station in Damascus, Syria's capital, the Syrian Observatory for Human Rights said.
"At least eight regime forces were killed, and a number of civilians injured, after a large explosion caused by a car bomb hit the Jobar neighborhood near a police station," said SOHR director, Rami Abdel Rahman.

The precise number of casualties remains ambiguous, but a 'number of civilians' were also injured, according to AFP. A Sky News Arabic correspondent placed the immediate death toll closer to 10, whereas an anonymous Syrian government official told Associated Press that three were killed, and 'several' others wounded.

The explosion took place at around 5:30am local time (02:30 GMT), on Sunday morning, and was speculated in social media to have been instigated by the Al-Qaeda allied al-Nusra Front insurgents. However, there has not yet been any confirmation of the perpetrators' identities. 

Brief gunfire accompanying the blast was reported in the city's Abbasids Square and around Parliament Square, with some local agencies also reporting later clashes in both Aleppo and Homs.

Clashes between rebels and regime forces have been ongoing in the central northeastern area of Damascus' Jobar, according to SOHR.

Hundreds of thousands of Syrian students are expected to be sitting high school diploma tests on Sunday.

Multiple explosions struck the outskirts of Damascus last month when airstrikes – attributed to Israel, but not confirmed – blasted military posts at the beginning of May, with the explosions reportedly killing scores of soldiers.

The conflict in Syria has entered its third year, with Damascus frequently being the site of bomb attacks. At least 80,000 people have been killed since the uprising against President Bashar Assad began in March 2011, according to UN estimates. 
You can share this story on social media: