Clashes erupt near UN observers' hotel in Damascus – RT report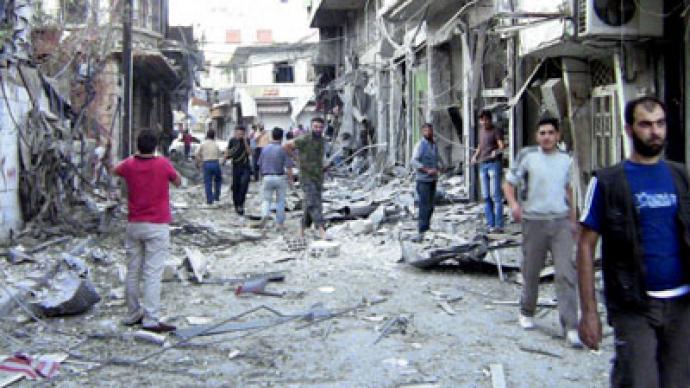 More clashes and street fighting are being reported in Syria's capital. RT's Oksana Boyko reports of "new intense clashes being heard" in Damascus "just outside the steps of the hotel UN observers are staying at."
Boyko reports "shelling right next to Four Seasons [hotel] in Damascus", which is just some 200 meters away from where the UN monitors are accommodated.The explosion, which caused no casualties, went off about 100 meters away from the Four Seasons. Gunmen simultaneously detonated two roadside bombs and clashed with police in central Damascus, AP reports. RT's Boyko correspondent on the ground in Damascus also tweeted about "several explosive devices detonated in central Damascus," adding that they were "small enough to kill, but big enough to spread panic."One of the blasts went off in central Damascus' Marjeh district, on a major square in downtown, when an explosive device planted under a tree was detonated by remote control as a vehicle carrying soldiers passed by, the Associated Press reported referring to an official at the scene. Local state-run SANA news agency reports gunmen opened fire on civilians "to provoke panic" after that attack. The other explosion went off near Tishrin Stadium, less than a kilometer away from the first one, SANA reported.There are also "reports of militants targeting Parliament building in the center of Damascus," RT's Boyko says. Earlier on Saturday Syrian state TV reported that gunmen abducted three Syrian journalists and their driver, who work for a pro-government TV station, while covering violence in a suburb of Damascus.
Govt troops regain control of Aleppo
The Syrian army says its forces have also taken control of a large part of the central neighborhood of Bab al-Hadid in Aleppo.Syrian troops and rebels fought fierce battles earlier on Friday. Government troops have managed to repel a rebel attack on Aleppo's international airport, state news agency SANA reported. Free Syrian Army fighters had tried to attack it, blocked the road leading to the air hub, but the "army hit back and killed most of them."Also in Aleppo, up to a dozen people, including three children, were killed and 20 wounded as a shell crashed into a bakery in the eastern Tariq al-Bab district, AFP reports. The latest violence is coinciding with US Secretary of State Hillary Clinton's visit to Turkey for talks on the Syrian conflict with Turkish leaders.Syria has been torn by a civil conflict for 17 months. The uprising against President Bashar al-Assad has claimed over 15,000 lives. Nearly 150,000 Syrian refugees have registered in the four neighboring countries since the conflict began. In Turkey alone, over 50,000 Syrian refugees have registered.
You can share this story on social media: