RT live report: Syrian Army battles jihadists in ancient Christian village
Sporadic fighting continues after Syrian government troops have regained control of the village of Maaloula, a center of Christianity in the region. RT's correspondent reports from the village, amid the shooting and fighter jets overhead.
Fighter jet in the skies over #Maaloula. Separate shots + artillery. The army regained control but they fear there could be snipers here

— Maria Finoshina (@MFinoshina_RT) September 11, 2013
Despite the battle, RT's crew made to the central square of Maaloula, the first time since they arrived in Syria on Saturday.

From there they headed towards Mar Takla (St.Thakla) - one of the two oldest surviving monasteries in Syria – on the edge of Maaloula.

On the way they were caught in crossfire during which the camera-man's assistant received a mild injury.

"We were shooting a package. It was already dark and suddenly militants started to fire. We had to hide between houses. The situation was getting worse and worse. As a result, Kirill's forehead was slashed by a ricochet," RT's camera man said.


We couldn't take main road while leaving #Maaloula,we broke a fence behind the house where we were barricaded to get out.

— Maria Finoshina (@MFinoshina_RT) September 11, 2013
My engineer got slightly (we thank God!) injured to his forehead. #Maaloulapic.twitter.com/7Nq0ib6bBs

— Maria Finoshina (@MFinoshina_RT) September 11, 2013
On Wednesday, Syrian government troops killed eight rebels and injured 20 others.

Inside the village fire was mainly targeting the mountaintop Safir Hotel, which the Al-Nusra Front militants seized last Wednesday. There were no militants inside, the army said, but some 200 jihadists are still hiding in the mountains that surround Maaloula.

"It's still dangerous to be here, and this is why they [army] allow journalists here only before sunset," Maria Finoshina reported. "According to the army there were local residents who were kept hostage in the basement of this hotel, but they are also free now," she added.


Locals joined #Syria army to defend #Maaloula. Many - w/guns but still in civilian clothes. #Syria#FSA#Nusra

— Maria Finoshina (@MFinoshina_RT) September 11, 2013

The Al-Qaeda-affiliated fighters have carried out several attacks on Maaloula since last Wednesday.

On Saturday pro-Assad forces managed to regain control for a short period of time, however by in the early hours of Sunday morning militants had retaken the village.

That occasion also saw the RT crew come perilously close to the fighting.


"It's hard to believe that what used to be one of the most significant shrines of the Christian community all over the world is a battlefield now," Finoshina reported from the village on Saturday, her voice occasionally drowned out by the sound of gunfire.

Maaloula – a mountain village of 2,000 residents, 60km northeast of Damascus - is a major pilgrimage destination for Christians from around the world.

It's home to some of the most ancient Orthodox Christian relics and is also one of the very few places in the world where people still speak Aramaic, a biblical-era language that Jesus is believed to have spoken.

Apart from being an ancient sanctuary on a UNESCO list of proposed World Heritage sites, Maaloula is also strategically important, situated on a highway between Damascus and Homs. The rebels have already established bases in the west and south of the capital. The village in the northeast would significantly increase rebel pressure on Damascus.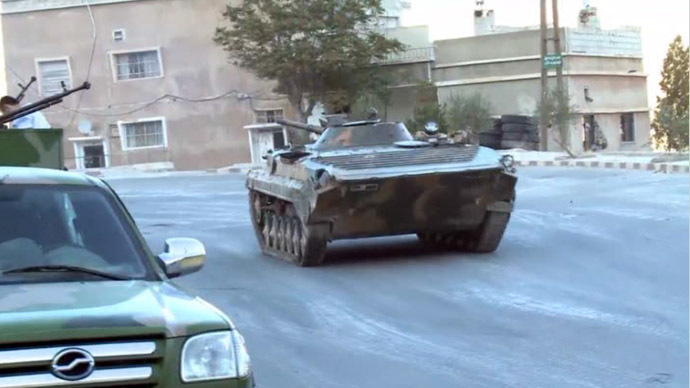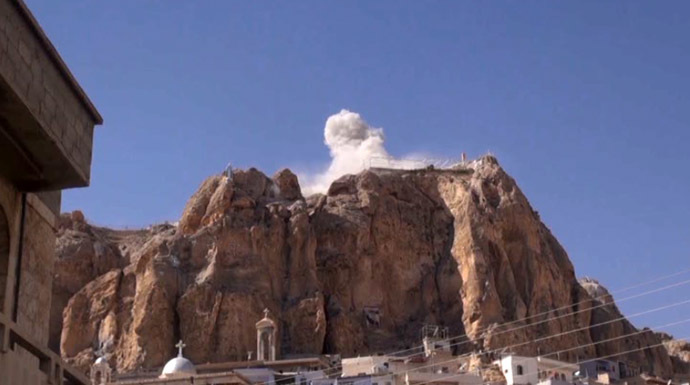 You can share this story on social media: