Chemical war of words: Syrian govt, rebels trade accusations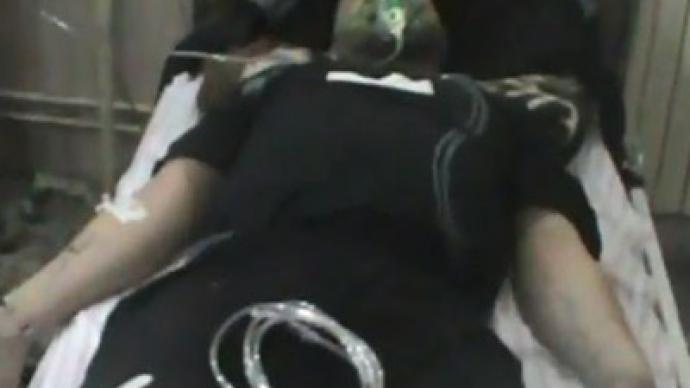 Though Moscow maintains that Syria's chemical weapons are secure, new rumors have recently swept international media: Syrian rebels and government forces have accused each other of using nerve agents that led to fatalities, unconfirmed reports said.
Iran's semi-official Fars news agency has reported that Al-Qaeda-linked rebels allegedly used chemical weapons during a battle with government troops in the Darya district on the outskirts of Damascus, killing at least seven soldiers."The terrorists have already thrown three cube-shaped plastic bags towards the [Syrian] army's forces that killed seven due to the gases emerging from the bags," a commander of the Syrian Presidential Guard told the Iran-based Al-Alam news channel on Sunday.The commander did not comment on the nature or the suspected origin of the gas, but said that it was yellow and caused death within an hour of being inhaled, Fars News Agency reported.As the allegations emerged, some Twitter users said that at least seven people died after about 50 people were exposed to gas used by government troops in Homs, Syria. The gas reportedly caused suffocation, nerve paralysis, temporary blindness, a change in skin color, nausea and hallucinations.A number of videos surfaced on YouTube showing several men gasping for air surrounded by medics, allegedly after being exposed to the chemical weapons. Unidentified narrators said the men "saw flames in the sky" from an explosion, after which they "suffocated."Doctors were reportedly unable to identify the type of the gas used in the attack, but activists claimed it was a nerve agent, possibly hydrogen cyanide since the alleged effects were similar to those caused by the substance.None of these reports have been independently verified.
Fear that Syrian rebels will attempt chemical provocationsThese allegations followed a recently released video purportedly showing Syrian Islamist rebels testing chemicals weapons on rabbits and threatening to use them against Syria's Alawite Muslims."Your destiny would be the same as them because you are missionaries for Naseeriyah and supporters of Bashar Assad," text underneath the video read. "We from the Ar-Reeh Asarsar Chemical Battalion, the Destructive Wind Chemical Battalion – we shall kill you all with our chemical weapons."Three weeks ago, the Syrian Foreign Ministry warned the UN that rebels might use chemical weapons after they gained control of "a toxic chlorine factory" east of Aleppo, AFP reported. This may be referring to a Syrian-Saudi plant which produces sodium hydroxide and hydrogen chloride for agriculture.Damascus officials have stressed on numerous occasions that Syria would not use chemical weapons under any circumstances, except against a foreign attack.Earlier reports also raised concerns that Syrian rebels could be armed with chemical weapons from foreign backers. Captured Libyan weapon depots were thought to be the likely source of these weapons, which could then be used as a provocation against the government.Meanwhile, the Syrian government has recently consolidated its chemical weapons stockpiles from around the country into a handful of high-security locations, Moscow announced."The latest reports about some movement of the chemical weapons were related to the steps undertaken by the government to concentrate the chemical stuff which has been dispersed in various locations into two sites, to make sure that it is absolutely protected," Russian Foreign Minister Sergey Lavrov told RT in an exclusive interview, adding that intelligence from both Moscow and Washington confirmed his statement.Syria's chemical weapons arsenal has remained a major international concern in the Syrian conflict – and a source of intense media speculation – since the topic first emerged in July. The EU, US and allied nations have said that the main threat from Syria's chemical weapons is that they could fall into the hands of terrorists who have infiltrated the ranks of the Syrian rebels.
You can share this story on social media: