Assad dubs chemical weapons 'burden'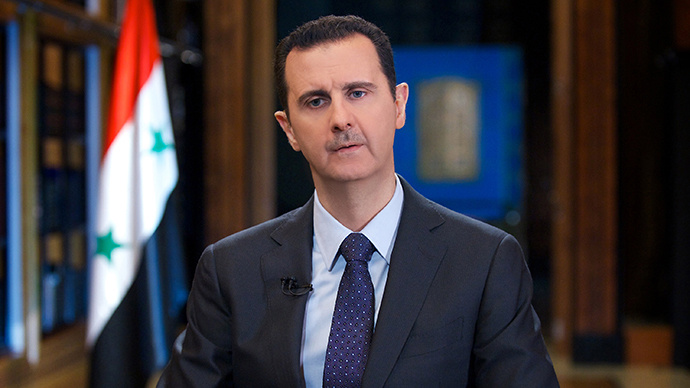 Syria's president, Bashar Assad, said his country is committed to its agreements on getting rid of chemical weapons, adding that they are something of a burden, as their destruction is costly and he has no use for them.
"Syria is generally committed to all the agreements that it signs," Assad said in an interview with TeleSUR TV, adding that his government is complying with the demand that chemical weapons be submitted for destruction.

In another interview, with Arabic daily Al-Akhbar, Assad stated that "in Syria there are thousands of tons of chemical weapons that have become a burden to us, since their destruction costs a great deal of money and could take years to destroy."

Damascus has started sending details of its arsenal to the Organization for the Prohibition of Chemical Weapons, which is supervising the deal. Inspectors from the organization are expected to visit Syria "in the coming period" to examine the status of the weapons.  

However, Assad also said there was "always the possibility that the terrorists will obstruct the work of the experts by preventing them from accessing certain places." Assad's government refers to the rebels as "terrorists."

Syria will suffer no great loss should the weaponry be removed from the country, Assad said.  He pointed out that Syria has considerably more sophisticated weapons in his arsenal. "We now possess deterrent weapons that are more important and more sophisticated than chemical weapons," he said.

"We created chemical weapons in the 80s as a deterrent against Israel's nuclear arsenal. Today, it is no longer a weapon of deterrence," Assad said.

Russian Deputy Foreign Minister Sergey Ryabkov said on Thursday that Moscow was prepared to help guard Syria's chemical weapons before they get destroyed. "We will be ready to help in guarding those facilities where work is being carried out," Interfax news agency reported Ryabkov as saying during a visit to an arms fair.

Assad praised a "collaboration with Russia," adding that the country would intervene if Syria is attacked. Assad has not yet eliminated the idea that the US could still strike, despite his full commitment to any agreement.

"The chemical weapons are not the goal of the United States and their allies, and they never have been…they wanted to change the balance of power and to protect Israel," he commented.

The UN Security Council is currently working on agreeing to a resolution on Syria's chemical weapons that is acceptable in the eyes of both Russia and Western countries.

The chemical weapons deal was agreed to following an attack which took place in an eastern suburb of Damascus on August 21, which killed hundreds of people. UN experts established that sarin gas had been used, and returned to Damascus on Wednesday to conduct investigations into other alleged attacks.

"We are the ones who invited them to come to Syria in March when the terrorists used poison gas in a suburb of the city of Aleppo," he said.

Assad's government was accused of carrying out the August assault by Washington and its western allies, while Syria's leader denies involvement.

While remaining aware of the possibility of a US strike, Assad stated that he is not overly-concerned about the possibility that the UN may pass a resolution allowing the use of force against his government.

"Today there is balance in the Security Council," he said, referring to Russia.

You can share this story on social media: