No evidence to support chemical weapons use in Syria - US official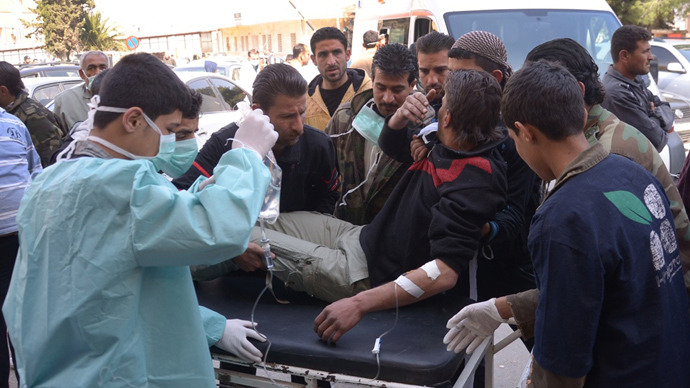 A US official has revealed that there may have been no chemical weapons used in a deadly incident occurring Tuesday in Syria's Aleppo. Meanwhile the UN has launched a full-scale investigation into the disputed attack.
"Our growing sense is that weaponized chemical weapons were not used," claimed the US official, speaking anonymously on Thursday.  A European security official has taken the same stance, saying that the death toll in the event of a chemical attack would be much higher than presently recorded. He added that there was no evidence to support the allegation, despite prior accusations by a multitude of Western officials.

The Syrian government and rebel forces have been directing blame at each other for using chemical agents after a recent rocket attack near the province of Aleppo claimed 26 lives.

While Barack Obama reiterated his stance regarding President Bashar Assad, saying that he would be held accountable if found to have carried out the attack, UN chief Ban Ki-moon promised a probe as soon as possible. "I have decided to conduct a United Nations investigation into the possible use of chemical weapons in Syria," Ban Ki-moon told reporters, specifying that the investigation will focus on the Aleppo attack, "the specific incident brought to my attention by the Syrian government."

The UN investigators will cooperate with experts with the Organization for the Prohibition of Chemical Weapons (OPCW) and the World Health Organization (WHO). The incident will be investigated as a single case, which goes against France and the UK's initial request to investigate another supposed attack, allegedly in Damascus.

Moscow has expressed hope that the US and France are not going to hamper the UN investigation into the Aleppo chemical attack in Syria. "I expressed hope that their initiatives are not attempts to postpone, hamper or prevent the investigation into what happened on March 19, because this issue needs urgent attention," Russia's Permanent Representative to the UN, Vitaly Churkin stated.

Churkin's US counterpart, Susan Rice, supported the probe in a statement on Thursday. "As the UN proceeds with these efforts, we will also continue to work closely with our partners to obtain further information regarding any and all credible allegations of the potential or actual use of chemical weapons in Syria," said Rice.

Meanwhile, Republican Senator John McCain and the Democrat Chairman of the Senate Armed Services Committee, Carl Levin, continued with the anti-Assad rhetoric, saying in a letter to President Obama that "the potential use of chemical weapons only makes the case for greater action more compelling and urgent."

You can share this story on social media: