20 dead after Syrian warplanes bomb olive press factory - activists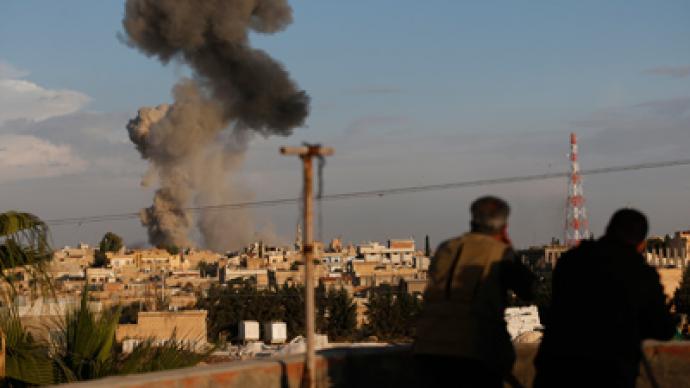 Syrian fighters have bombed an olive press factory in northwestern Syria, killing upwards of twenty people, activists say. Farmers waiting to convert their olives to oil were reportedly among the dead.
The Syrian-based Local Coordination Committees (LCC) network says at least 20 people were killed and many others wounded in Tuesday's airstrike. The British-based Syrian Observatory for Human Rights says "tens were killed or wounded."The olive press factory that was allegedly bombed is located west of the city of Idlib, an opposition stronghold in the country's northwest.Fadi Yassin, an activist based in the city, told AP by telephone dozens of people had gathered to have their olives pressed when the bomb was dropped, leading to a large number of causalities.The reason the olive press factory was targeted remains unknown, though Idlib and towns in the region have regularly been targeted as a hotbed for insurgent activity.Olive oil is an economic staple in Syria, where tens of thousands of tons are produced annually. With fewer oil press factories operating in the region due to the ongoing conflict, functioning sites have been more packed than usual.Yassin, who said "now is the season to press oil," claimed Tuesday's bombing "was a massacre carried out by the regime." Damascus is yet to comment on the strike.The Observatory also reported fighting on the southern edge of the strategic rebel-held town of Maaret al-Numan – which was captured from government forces last month – and in the Damascus suburb of Kfar Souseh.The Observatory said airstrikes on Maaret al-Numan – located on a highway which links the capital Damascus with the northern city of Aleppo – killed at least five rebel fighters. Syria's state-run TV said an explosive-laden car detonated in a Damascus suburb, killing at least two and wounding four.On Sunday evidence emerged that a government airstrike using cluster bombs on a village near Damascus killed at least 11 children and wounded several others, Human Rights Watch reported.Between 20,000 and 40,000 have been killed in Syria, according to different sources, since the Syrian uprising erupted in March of last year.Damascus has insisted that foreign-backed "terrorists" are responsible for the violence currently gripping the country. On Tuesday, the Syrian daily Al Watan published a list of 142 alleged militants from 18 countries – including 47 Saudis and 24 Libyans – who were killed during battles with government forces.The bulk of the fighters were killed in October and November in Aleppo, Homs, Idlib, Dayr al-Zawr and Hasakeh, the paper said.
You can share this story on social media: