Syria's largest city rocked by blast hours after gov't thwarts different attack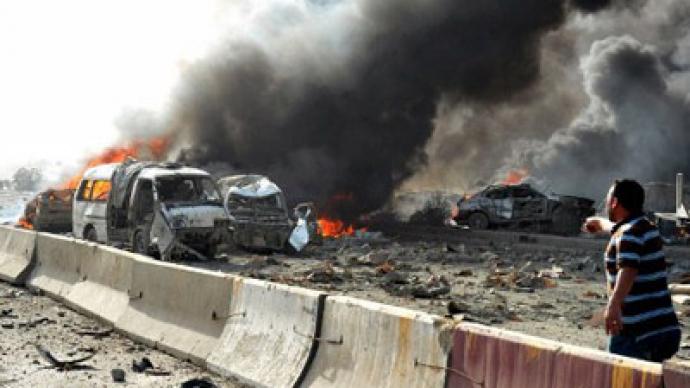 A major blast is reported to have ripped through Aleppo, Syria's largest city. The bomb allegedly targeted the headquarters of Syria's ruling Ba'ath Party.
According to local media, unidentified gunmen hurled a grenade at the headquarters of Syria's ruling party, killing a security agent and damaging the building. Guards then opened fire at the assailants, though it was not clear whether anyone was killed in the exchange.The British-based Syrian Observatory for Human Rights (SOHR), told AFP that "initial details indicate that the Aleppo blast was targeting the local branch of the ruling Ba'ath party and there is no information until now on the number of victims that fell in the explosion." However, one guard at the headquarters died, apparently in a round of gunfire following the explosion, reports Reuters citing SOHR. Activists in the city said they heard a very loud noise that appeared to come from an area in center of Aleppo."The sound was so loud and after that there were a lot of echoes of gun fire. Now all the roads leading to Saadallah al-Jabiry square are closed down," Reuters cites an activist who asked not to be named.The blasts come hours after Syrian authorities killed a would-be suicide bomber, foiling a potentially major terror plot. The terrorist was shot before he had a chance to detonate 1,200 kilograms of explosives stashed in his minibus.Also on Friday night, RT's Sara Firth, on location in Damascus, has reported another possible explosion. The strength of the blast is not yet clear, and there has been no official confirmation. However, Firth said the RT crew could hear and feel something like a bomb going off from their hotel room. According to Firth, the feeling was akin to one they'd experienced "when the May 10 bombs exploded" near intelligence headquarters in the Syrian capital.Only two days ago, 55 people were killed and 372 more injured by two powerful blasts in Damascus, the worst attack since the uprising began more than a year ago.Two car bombs went off in quick succession during the morning rush hour, just as employees were arriving to work. A small initial explosion was followed by a much larger blast, allegedly targeted at paramedics and security forces arriving at the scene.The explosion left two craters – three and six meters wide – in front of a military compound. The two cars were stuffed with more than 1,000 kilograms of explosives, said Syrian Foreign Ministry spokesman Jihad Makdissi. The blasts were branded a terrorist attack by state television and the authorities, but there has been no claim of responsibility yet.
SOHR – Who can you trust?
Earlier, Russia questioned the reliability of the Syrian Observatory for Human Rights. The activities of the controversial London-based group were denounced by Russia's Foreign Ministry back on February 2012, with spokesman Aleksandr Lukashevich casting doubts on SOHR's reliability."As far as we know, this organization employs only two people (its head and secretary-translator). It is headed by Rami Abdulrahman, who has no training either in journalism or law or even a complete secondary education," Lukashevich said.The SOHR is one of the most widely-quoted sources of Syrian casualty figures and Lukashevich pointed out that many information agencies, primary Western ones, often refer to SOHR data in their reports on Syria.Historian Pierre Picolin also says the Observatory is a source Western media choose to rely exclusively on when it comes to getting information about Syria. "I say that there are two such 'observatories,' and they are both connected with the opposition. In reality these organizations are the opposition's propaganda agencies, propaganda tools." he said. "It is part of the journalist's job to think critically, verify sources and be extremely cautious. But they decide to just spread the information they receive from the Syrian Observatory for Human Rights, without asking any questions."In fact there are two sites each claiming to be an official observatory and providing different data. Both sites report slightly different figures, none of which can be independently confirmed, leaving media outlets wondering how reliable their sources are.
You can share this story on social media: