Historic Syrian antiques plundered amid civil war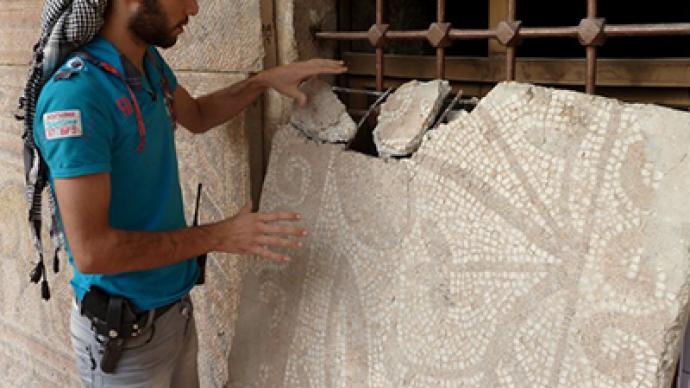 Ancient Roman-era Odyssey mosaics in northern Syria have been stolen, reminding the world about the increasing pillage of historic Syrian artifacts. The ongoing conflict in the war-torn country has prevented authorities from preserving the treasures.
Ancient mosaics depicting scenes from Homer's 'Odyssey' have been illegally excavated at an archeological site and smuggled to Lebanon, Syrian Minister of Culture Lubana Mushaweh said in an interview with government daily Tishreen on Sunday. "We have been informed that these mosaics are now on the Syrian-Lebanese border," she said. Mushaweh also recalled an 8th-century-BC Aramaic gold-plated bronze statue stolen from a museum in Hama, which has become a battlefield in the conflict between the Syrian army and rebel forces. In December 2012, the statue was put on Interpol's 'Most Wanted Works of Art' poster.Mushaweh said that the Culture Ministry is unable to protect some "10,000 historical sites scattered around Syria," and warned that illegal excavations would "damage some sites and buried cities." However, she stressed that Syria's museums are "well-guarded," and that the most valuable artifacts "have been archived and placed in very secure locations."
Syria, archaeological disaster zone
For thousands of years, the territory of modern-day Syria was home to several civilizations – the country has stood at the crossroads of numerous cultures and religions. Syria is home to six UNESCO world heritage sites: The ruins of Palmyra, the citadels of Crac des Chevaliers and Qal'at Salah El-Din, the city of Bosra, its ancient northern villages and the Old Cities of Damascus and Aleppo. Fierce fighting in Damascus and Aleppo has resulted in the destruction of many historic landmarks; UNESCO has repeatedly called on the international community to protect Syria's cultural heritage. In May 2012, INTERPOL's General Secretariat warned of "imminent threats" to Syria's heritage, which is vulnerable to "destruction, damages, theft and looting" during this period of turmoil.INTERPOL called on all of its 190 member-states to tighten import controls to prevent the illicit trafficking of cultural goods from Syria and its neighboring countries, and offered to create a database of the stolen works of art to "facilitate the identification and recovery of stolen Syrian artifacts." The first artifacts added to the Syrian database were mosaics stolen from the ruins of Afamya in the city of Hama.
The Great Middle East plunder
With the Syrian economy in freefall, many have turned to digging for antiques. There are always private collectors ready to pay in cash for rarities that never made it into a museum – and never will.As conflict continues to rage across Syria, many fear that the situation could unfold in a manner similar to Iraq, where most of the country's historic treasures were either lost in unprecedented looting after the fall of Saddam Hussein's regime in 203, or were simply destroyed by invading US troops. Iraq's national museums and archeological sites reportedly lost over 47,000 historic items as a result of the looting and destruction. A similar fate befell Afghanistan following the December 2001 US-led occupation; perhaps the only difference was that Afghanistan has never been an especially wealthy country. The thousands of historic items trafficked from both devastated countries apparently whetted the appetites of private collectors for Middle East artifacts. In November 2012, NBC News reported that all six of Syria's UNESCO world heritage sites had suffered extensive damage.
The temples and tombs of the ancient city of Palmyra were reportedly looted, while the Old City of Aleppo – one of the oldest continuously inhabited settlements in human history – suffered a devastating fire.
The government in Damascus has repeatedly blamed militants of the Free Syrian Army for the looting of historic valuables. The opposition has claimed that the Syrian army never hesitated to use heavy artillery on heritage sites once rebels began using them as hideouts. The 12th-century Crac des Chevaliers fortress, which used to be one of the most-visited landmarks in Syria before the conflict began, was seriously damaged by artillery fire while the Syrian army attempted to clear out a rebel encampment.
You can share this story on social media: