Syrian govt evacuates 5,000 from town besieged by Islamist rebels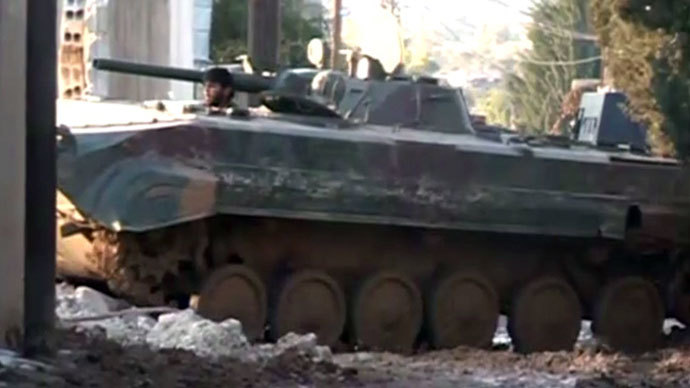 The Syrian government evacuated around 5,000 people on Sunday from a town near Damascus where Islamist rebel fighters executed dozens of civilians two weeks ago, Syria's state news agency reported.
Government forces continued to battle Islamist rebels from the Al-Nusra Front and the Army of Islam in the town of Adra, located northeast of the capital. The town, which has a population of 20,000, was captured in mid-December by jihadist rebel groups.
Many of the civilians killed were members of the Alawite and Druse sects, communities which stand in support of President Bashar Assad, who himself is an Alawite.
Syrian troops surrounded the town following the rebel invasion.
Minister of social affairs Kinda Shammat stated on Sunday that more than 5,000 people were evacuated from the town.
"The citizens who have been evacuated are now in a safe haven as the ministry formed a relief operations' room with the cooperation of Damascus countryside governorate to offer them the basic relief aid," he said in a statement to SANA news agency.
An Adra resident earlier told RT that he escaped from the town "under a storm of bullets." He later contacted his colleagues, who described how the executions were carried out by the militants.
"They had lists of government employees on them," the man said. "This means they had planned for it beforehand and knew who works in the governmental agencies. They went to the addresses they had on their list, forced the people out, and subjected them to the so-called 'Sharia trials.' I think that's what they call it. They sentenced them to death by beheading."
The government in Damascus tried to draw the UN's attention to the events in Adra. The Syrian Foreign Ministry sent a letter of complaint to the United Nations on Monday, saying that more than 100 people were massacred by the Al-Nusra Front and the Islam Brigade.
Both the Adra massacre and the latest Aleppo bombing have signaled an escalation of violence in the war-torn country ahead of the UN-mediated and continuously postponed peace talks on Syria, which are now set to take place in Geneva on January 22.
More than 100,000 people have died during the three-year uprising in Syria, according to UN estimates.
You can share this story on social media: