8,000,000 coins for sale: Auction call for genuine Swiss bank vault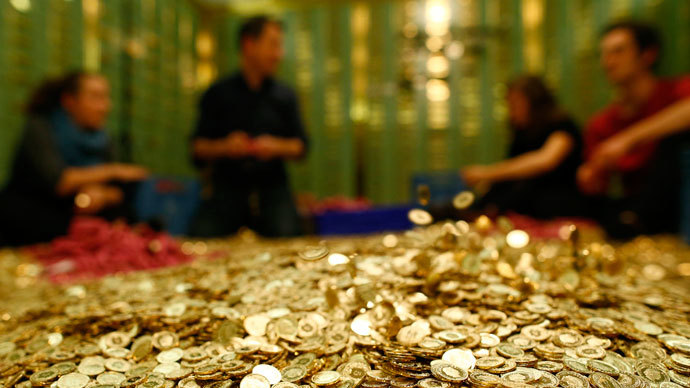 A Swiss bank vault filled with 15 tons of coins worth 440,000 dollars has been put on sale with a negotiable price. Currently located in Basel, Switzerland, the vault can be relocated anywhere the buyer would like.
A total of 8 million coins (each representing one person in Switzerland) are being kept in 1,619 deposit boxes within the vault, which is over 100 year old. It is located in the 'Basler Volksbank' bank building. 
The vault was handmade from steel and brass in 1912. The former Schweizer Volksbank safe room is known to be one of the finest pieces of Swiss craftsmanship from the early 20th century.
The price is negotiable on application.
The Generation Basic Income Initiative, is a group which is fighting for a minimum monthly disposable household income of $2,800 (2,500 Swiss francs) for each working citizen in Switzerland. 
"It is just the next step in our global campaign for a basic income: everybody had that dream one time in their lives: to swim in money. It's an old archetype of humanity. We simply make it real. The revenue of the sold object will float into the worldwide work of Generation Basic Income in the future," its co-starter and one of the initiators of the auction Che Wagner told RT.
The Basic Income Initiative collected the cash earlier this year, which it is now selling along with the bank vault. 
In October they dumped all 15 tons - or 8 million five-cent coins - on the square and spread out in front of the Swiss Parliament in Bern to mark the day when some 120,000 Swiss signatories put their names to a petition, also presented  by the Basic Income Initiative.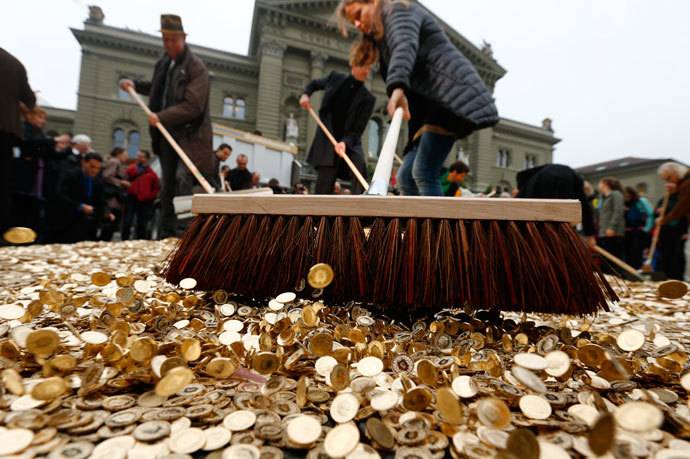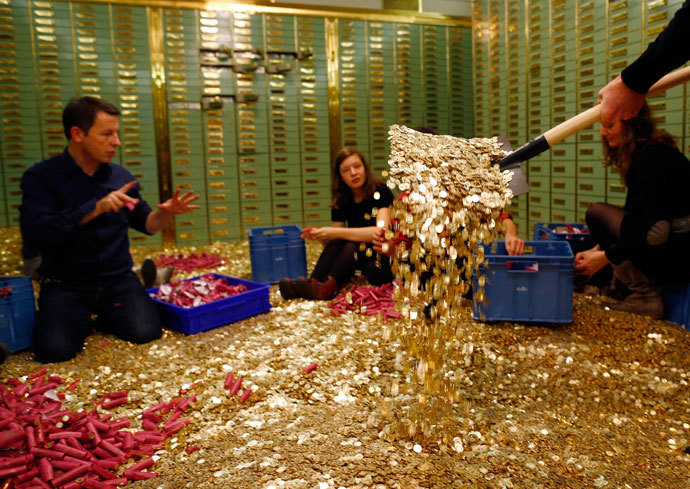 As a result, Switzerland is now on the verge of voting on a historic referendum on the question, which may take place as soon as next year.  A date for the vote has yet to be set.
The initiative hopes that selling the vault will help them raise enough funds to take their campaign worldwide.
"It's a beginning of something! I don't know about the government, this isn't politics as usual, we're tapping unconventional paths. Similarly to the political idea of implementing a basic income, selling a money pool isn't how things usually work. That allows people to think about it. Think about how things work and how things could work in the future, for example with an unconditional basic income."
The Generation Basic Income Initiative has support not only from Swiss citizens, but also from other European states. 
By making its cause global, the group hopes to help other citizens demand what is promoted to be their rightful income.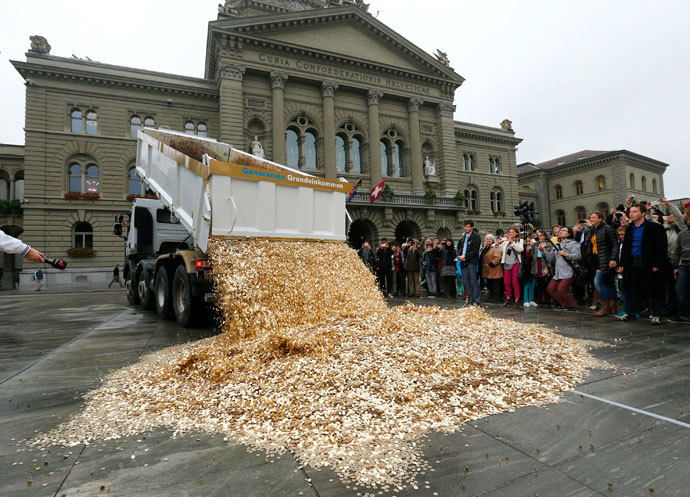 You can share this story on social media: