Off the hook: Sweden tries to deport EU sex workers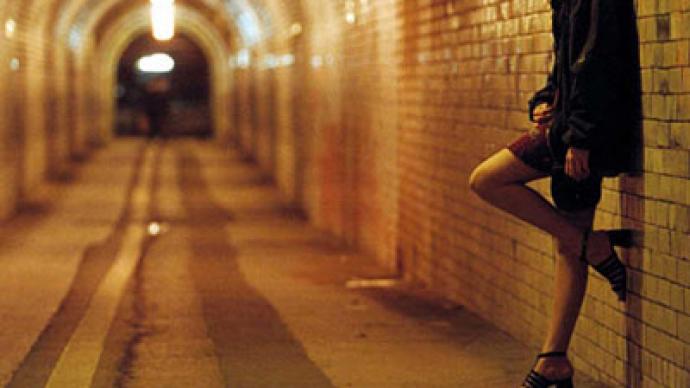 In a controversial move aimed at "protecting the basic interests of society," Swedish police are sending every non-resident prostitute packing – despite the fact that selling sex is legal in the country and the deported are EU residents.
This, according to the Migration Court in Gothenburg, is actually illegal, as the European Union directive on free movement of its citizens clearly states every resident has the right to visit any country within the union for up to three months without anything more than EU citizenship. However, earlier this year police used the same "protect our society" reason to deport beggars – even though they were also EU citizens. The legal battle looks to be a long one. A court has ruled that prostitution is not an acceptable means of financial gain, but it is also bound by EU agreements. The situation is further complicated by the fact it is legal to sell sex in Sweden, but not to buy it. But while the legal kinks are being worked out, some are seeing this move as a sign of the EU's impending collapse. Jens Holm, a Parliament member with the Swedish Left Party, told RT that this "is a very worrisome tendency when more and more countries in Europe just look at themselves.""I'd like to see more [solidarity], where countries in Europe and in the world cooperate more and treat citizens with respect, regardless of profession or the size of the wallet," Holm said. So is this step toward an "every man for himself" policy unique to one member state, or is this a tendency across the EU? Stories about the union's disintegration have been flooding the internet since the economic crisis hit, and it has become clear that "united we stand, divided we fall" isn't quite working. In fact, it was closer to "the weakest will fall – and they might bring us all down with them." So it is perhaps understandable that some countries want out. Or at least more control over their domestic policies and laws. The whole idea of a united Europe carried beautiful, almost utopian-like qualities of equality, cultural integration, opportunities and possibilities. But the first sign of serious financial trouble has shown EU residents that they're not quite prepared for no jobs, pay cuts, taxes and ceaseless immigration issues. And they're certainly not prepared to suffer for "human rights issues."Many have argued that various human rights laws and bills are actually robbing EU citizens of theirs. In the UK, a convicted terrorist walks the streets of London, among the very people he plotted to kill – all because his rights may be violated back in his native Eritrea. Sweden, along with others, is battling an immigration surge, especially from new EU member states. "The EU took off on a wing and a prayer, its Euro-cratic begetters insisting with their blue-eyed optimism – or hubris – that if they said something would work, it would work," human rights lawyer Jacob W.F. Sundberg told RT. "They were indeed seduced by their own rhetoric, but became prisoners of popular sentiment – what is sometimes called the forces of history, and indeed, of democracy."The jury is still out on whether sense or sensibility will prevail in Sweden. But as Sundberg succinctly states: "When our leaders faced up to the fact that they are living in a multipolar Europe, they – by defending an illusion of order – are making disorder a reality."
Katerina Azarova, RT