Thousands protest racism, neo-Nazi violence in Swedish capital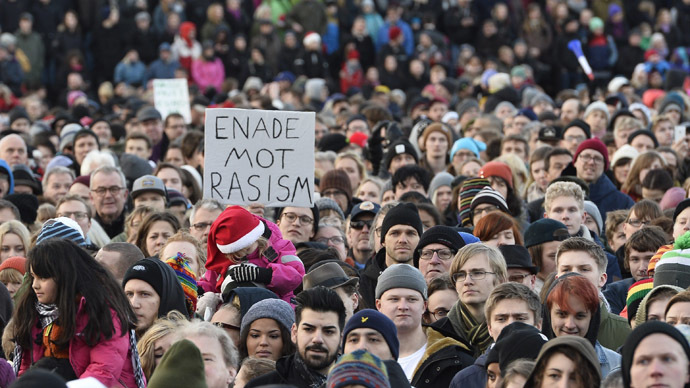 Thousands took to the streets of the Swedish capital Stockholm to protests against racism and respond to a neo-Nazis assault on a similar, but smaller, demonstration last week, when 2 people were stabbed.
A group 30 neo-Nazis attacked an anti-racism rally in the city's suburb of Karrtorp last weekend, throwing bottles and firecrackers at the demonstrators and stabbing two people.

Demonstrators gathered again in Karrtorp on Sunday, with organizers saying that around 16,000 came to protest the aggressive actions of the nationalists.

The crowd chanted "End racism now" and "No racists on our streets", with left-wing politicians and musicians appearing on the stage, erected on a football pitch, Reuters reports.

"It feels as though the square has been taken back. It shows that there are many of us who believe in democracy and nonviolence," Jonas Sjostedt, Left party leader, told TT news agency.

The police said that "preventive measures" were taken to ensure the rally goes on without incidents, with over 100 officers providing security during the protest.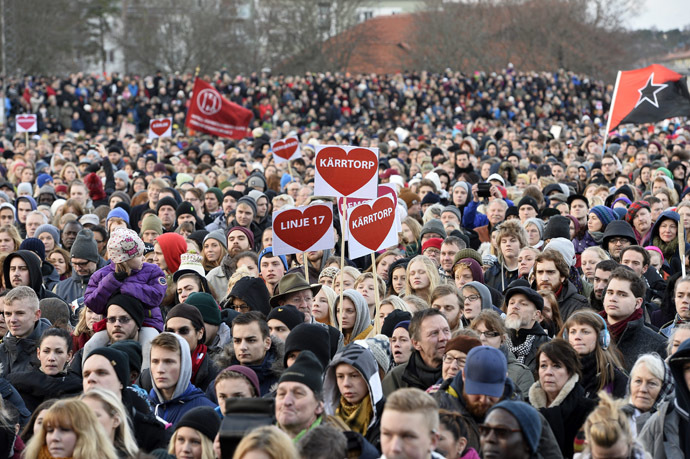 The demonstration was more than just a protest against the neo-Nazis, but an overall rejection of racism, the rally's organizers from Line 17 group said at press-conference ahead on the event.

Similar protest marches were held in other Swedish cities on Sunday, including Boras, Lulea, Malmo and Motala, The Local reports.

Sweden, which was long considered one of the most tolerant European countries, has recently witnessed a rise in sympathy for the far rights due to the increasing immigration into the country.

Anti-immigration party, Sweden Democrats, has reached around 10 percent in the polls ahead of a parliamentary election, scheduled for September 2014.

Stockholm was hit by the worst riots in years this May as the youth in mainly poor immigrant suburbs clashed with police and burnt cars for over a week.
You can share this story on social media: