Rioters in Sweden protest alleged brutality, racism after police shoot elderly man
Rioters took to the streets of a Stockholm neighborhood on Sunday, torching cars and throwing stones at police. Officers reportedly called residents "monkeys" and other derogatory terms as they protested against a recent police shooting.
Between 60 to 100 people – most of them young men – took part in the riots which began around 10pm local time in the Stockholm district of Husby.

Police turned up at the scene after a car was set on fire. Upon arrival, officers were met with stone-throwing protesters, Police Chief Daniel Mattsson said, as quoted by The Wall Street Journal.

One policeman was attacked by youths kicking him and two others were injured by rocks, police officer Jorgen Karlsson told AP.
Rioters torched cars in a local parking garage. Around 50 vehicles were damaged in the fire, which forced the evacuation of a nearby building. Windows were smashed at two schools and several local businesses.
Mattson said there were 18 criminal incidents reported and that the unrest lasted for four hours.
Allegations of police misconduct
Witnesses say that police officers reportedly called rioters and residents "monkeys" on Sunday night, discriminating against their race.

Rouzbeh Djalai, editor-in-chief of local newspaper The North Side, told The Local that she spoke to a youth leader and some of teenagers after the riots. The group reportedly approached police asking if they could help.

The youth leader told her that he was called a "nigger" by police, while the boys were called "monkeys." They also said the police attacked them with batons.

"If the police don't want to cooperate, they should just say it; they don't have to call people names and hit them with batons," Djalaie said.

Residents of Husby are angry that police are increasing their presence in the neighborhood, instead of focusing on long-term solutions to the area's problems.

"There's frustration in Husby and it risks spiralling out of control; people want long-term solutions to social problems instead of an increased police presence," Djalai said.
 
"It's a neighborhood where one third of junior high school graduates leave school without adequate grades; they step straight out into unemployment. It's obvious what the consequences are," she added.

Seeking justice
The riots were in response to the fatal shooting of an elderly man last week. The man was shot and killed by police after officers responded to a call that a person was roaming Husby with a knife.

Once officers arrived, the man disappeared into an apartment, police spokesman Lars Byström told TT news agency. He then stepped onto a balcony and threatened officers.

"He screamed at police from the balcony that he wanted to kill them," a neighbor told the Expressen newspaper.

Negotiators were called to the scene and police learned that a woman was also in the apartment. After failed attempts at negotiating, police broke down the apartment door in an effort to secure the woman's safety.

But things took a turn for the worse once officers arrived inside the residence.

"Then the person in question appeared holding a machete. Officers felt cornered and threw a flash grenade so they could overpower the man. That didn't work either and they then felt forced to open fire," said Byström.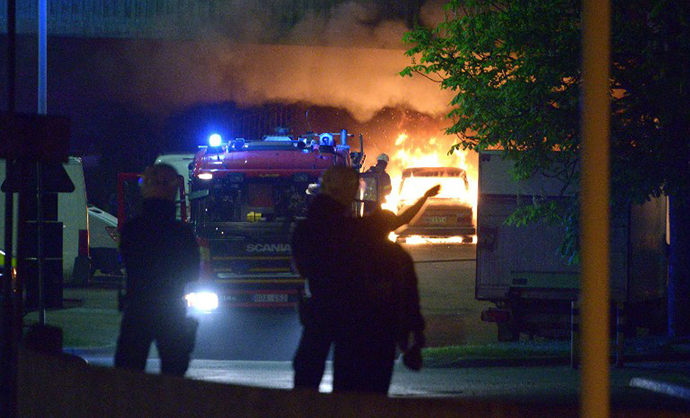 It is unclear how many officers fired shots and how many shots were fired, but witnesses say police fired five or six shots in total.

"We saw the flashes when they shot. Even if you'd never seen an actual shooting before, you knew what it was," a witness said.
Police say the 69-year-old man was taken to hospital where he was pronounced dead from gunshot wounds.
However, local youth organization Megafonen reported on May 15th that neighbors said there was never an ambulance. Instead, they say a hearse turned up to cart away the body at 2am.
The woman inside the apartment escaped with no injuries, according to police. Her relationship with the man remains unknown.
Megafonen arranged a protest against the alleged police brutality last week, in response to the fatal shooting. The group - a community-based organization aimed at organizing residents to fight for social justice - demanded an independent investigation and public apology.
"Last week, the police shot an old man who was holding a knife. How can they do this without taking responsibility? I can understand the reaction (riots)," Megafonen founder Rami al-Khamisi said.
Prosecutors from the Swedish National Police Crimes Unit are currently investigating the shooting.
You can share this story on social media: