'Sticky bandits' arrested in maple syrup heist in Canada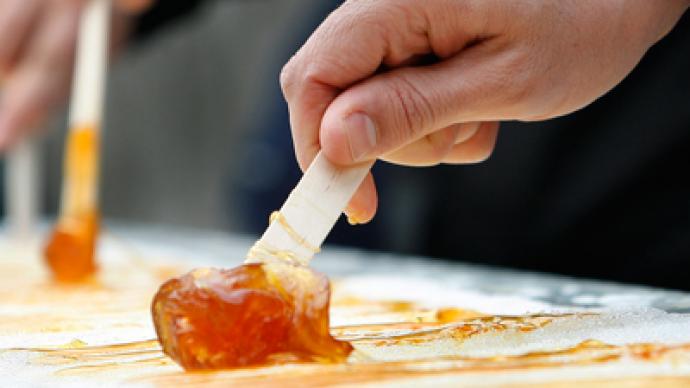 Three suspects have been arrested in connection to the 'stickiest' robbery in Canada: Two of them were charged with the theft of about 2.7 million kilograms of maple syrup, worth up to $18 million in the French Canadian province of Quebec.
Richard Vallières, 34, and Avik Caron, 39, face charges of theft, conspiracy, handling stolen goods and fraud. The third suspect arrested was not named. Caron previously worked as a financial adviser, CBC reported. Quebecois police are still looking for five more suspects – four men and one woman. The woman is facing charges of fabricating a forged waybill to dupe US and Canadian border agents.Police believe the theft was an inside job. "One of the suspects clearly had access to the warehouse," Lt. Guy Lapointe of the Sûreté du Québec told the Globe and Mail. "Because they were doing it inside, they couldn't be seen from outside, and it was easier for them to steal the syrup."The syrup heist triggered a vast, top secret four-month investigation, which involved nearly 300 interrogations, executed search warrants, and seizures of vehicles and other equipment. Police went as far as visiting maple syrup producers and making them take a lie detector test, the Globe and Mail reported. The theft was discovered in August at a warehouse rented out by the Quebec Federation of Maple Syrup Producers, about 95 kilometers southwest of Quebec City.The thieves managed to steal around 10,000 barrels of maple syrup within a year – enough syrup to cover a Himalayan mountain-sized stack of pancakes.Some of the stolen syrup is said to have been moved to the US; local authorities are attempting to recover as much of it as possible.Interim Director of Federation of Maple Syrup Producers Simon Trépanier has asked for the government's help to recover the syrup. "If there's any maple syrup … stolen and it's now in the States, if it's our syrup, we want it back," Trépanier told CBC.So far, police have only been able to recover 70 percent of the stolen liquid, prompting fears that the rest of it has already been sold. The thieves' main goal was "to make money", Lapointe said. The Canadian province of Quebec supplies 80 percent of the world's syrup. The stolen syrup was equal to about 12 percent of the province's total inventory of syrup.The theft caused a dip in prices in some European markets, but did not affect Canada.
You can share this story on social media: