Survival of the fittest – turning kidneys into cash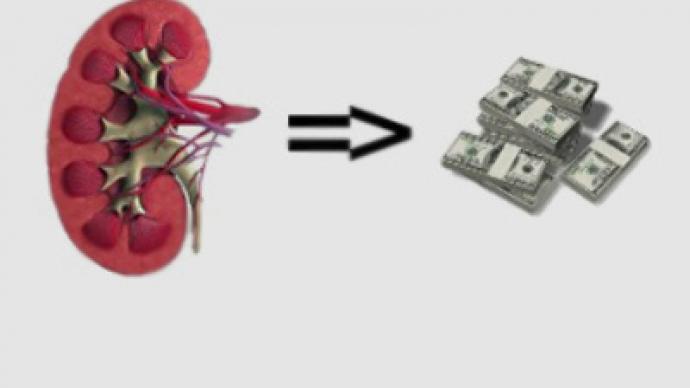 A social networking website seemingly inviting people to buy and sell their kidneys has gone online in Russia.
The website, which has the motto "Your kidneys are our cares!" proclaims that selling a kidney is an ideal way to survive the world economic crisis.
The site's homepage says "In crisis? Crises are taking over the planet. But you've got a chance! The cost of a human kidney is $70-80,000 and it could be enough to pay all your fees, credit and much more. You can help yourself right now: just sell your kidney. Be quick!"
According to statistics on the website, 2,456 users have already registered.
But with little proof of the site's authenticity, the whole project looks like it could be nothing more than a cynical joke.
It recently launched a promotional campaign encouraging people to get friends to join the network: "Invite your friend and receive 20% of your friend's kidney price. Only until September 1."
Feedback on the site is positive, but rare, with only two messages posted in the section.
"I was an investment banker before crisis. But the crisis killed my bank and I lost my job," writes one 'client' called Stepan. "I've got a wife and children. I made the decision to sell my kidney and that gave us the chance to move from Moscow to the country (where life is cheaper). I took my wife to a restaurant, just as we used to. She was happy! And I saved some money for my son's iPod thanks to the clinic."
Another supposed client, Vitaly, writes "I was born in Samara but came to Moscow in 2000. I started as a general salesman but later progressed to be a region sales manager. Everything was fine until the crisis. It has broken my career and my company. Without money I can't pay for loan. I didn't know what to do, but my friend suggested this clinic! Me and my wife have sold our kidneys and received money to pay our loans. Now we won't find ourselves on the street. Thank you!"
The site exists in both Russian (Pochkapochka.ru) and English (Sellkidney.com) versions. And both messages are carefully translated on both.
It also has an encouraging section entitled 'You are not alone', but an empty page opens up when you click on the link.
Those who have already decided to sell their organs are offered a test on the 'suitability' of their kidney, which consists of questions about the donor's health.
You can share this story on social media: