Superjet-100 order book hikes by 50%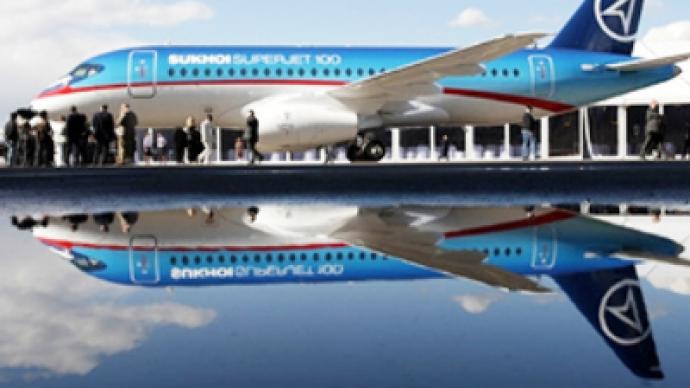 Sukhoi has signed two contracts on the civil airliner Superjet-100 for a total of 54 planes at the Le Bourget air show. Earlier the manufacturer reported it had about 100 aircraft in its order book.
The first deal is a preliminary contract with Hungarian company Malev announced on Monday. Sukhoi is to supply 30 SSJ-100s – the 98-seat version – starting from 2011. The deal is estimated to be worth $1 billion, although details have not been revealed and may change before the contract is finalized.
On Tuesday, a Russian aviation leasing company from the Perm region, Avialeasing, and Sukhoi sealed a deal for 24 Superjets. The contract is estimated at than $715 million. Avialeasing hopes that, by the time first aircraft are delivered in 2011, the air transport market will have stabilized.
"As for this batch of airplanes, we already have customers for them… They will be delivered to Russian airlines," said the company's Vice-President Viktor Novikov.
According to Sukhoi General Director Mikhail Pogosyan, the company plans to produce 70 SSJ-100s annually by 2012, and hold 20% of the market segment. He expects the civil aviation branch to account for 40% of the production by that time, with 40% left for military orders and the remaining 20% to services. The Superjet-100 is currently Sukhoi's only civil model, so not surprisingly Pogosyan called it "a key factor in the strategy" of the company.
Le Bourget air show is the international debut for the Superjet-100. It is the first new civil aircraft developed in modern Russia and is produced in collaboration with several foreign aircraft producers.
You can share this story on social media: