Thousands of Iraqi Sunnis rally against Shia-led government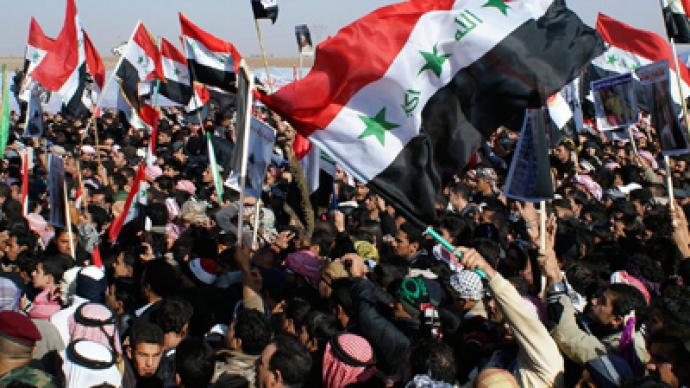 Thousands of Sunnis have rallied in the Iraqi province of Anbar, blocking a highway linking Baghdad with neighboring Jordan and Syria. Protesting against the national Shia-led government – the action highlights rising sectarian tensions in the country.
The Wednesday demonstration in the country's largest province comes after the arrest last week of 10 bodyguards of Sunni Finance Minister, Rafia al-Issawi. Minority Sunnis view such detentions as politically motivated.The protesters demanded that Sunnis' rights be respected and urged for the release of Sunni prisoners held in jails.  Al-Isaawi attended the rally in the city of Ramadi where he accused Prime Minister Nouri al-Maliki of not respecting the law and the constitution and accused the government of persistently targeting the Sunnis.He further said that Iraq has been embroiled in far too many crises and "cannot be run with such a mentality.''  Meanwhile PM al-Maliki denied that the recent arrests were political and warned against a return to sectarian strife in the country.The Majority of Iraq's population are Shia, but they did not come to power until the 2003 US-led invasion ousted Sunni-dominated regime of Saddam Hussein.