At least 29 dead, scores injured in string of Iraq car bombings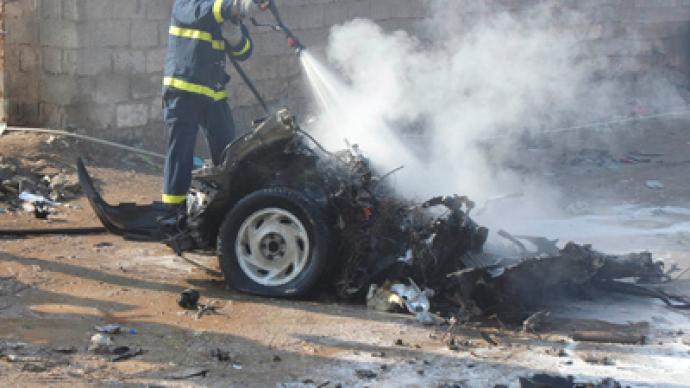 At least 29 people have been killed and 126 others wounded after eight car bombs hit Shiite and Kurdish areas across Iraq.
The car bombs rocked the northern city of Kirkuk, as well as several sites inside and outside Baghdad. One of the three blasts in Kirkuk destroyed the local offices of the Kurdistan Democratic Party and all of them targeted two Kurdish residential areas in the center of the oil-rich city. Five people, including a Kurdish security guard, were killed and 58 others wounded, police sources told AP.A few minutes later, two bombs exploded in a market in the Sunni-dominated town of Hawija west of Kirkuk, killing two civilians and wounding five others. Five Iraqi army soldiers were also wounded when bombs were detonated near their houses in the nearby town of Tuz Khortmato.
In Baghdad, three blasts took the lives of at least 19 people and injured 72 others, an interior ministry official told AFP. Bombs went off almost simultaneously shortly after nightfall outside mosques in the Shulla, Sbaa-Abkar and Hurriya neighborhoods. Dozens of Shiites gathered there for the Day of Ashura, which marks the climax of the mourning for the martyrdom of Husayn ibn Ali, the grandson of Prophet Mohammad."The scene was horrific, with people screaming for help. Such attacks bring back memories of the darkest days of sectarian strife that took place several years ago in Iraq," an eyewitness told the Associated Press.Violence reigned in other sites in the country's north leading to the deaths of several more people in various bombing and shooting incidents.No one has yet claimed responsibility for the attacks, but the use of car bombs indicate Sunni insurgents may be behind the violence, known for often carrying out attacks against Iraq's Shiite majority. Other reports suggest al-Qaeda in Iraq might be behind the bombings.The attacks come a day after Iraq's top security officials and Kurdistan's regional government agreed to form committees to find a solution to the recent crisis over Kirkuk. Kirkuk, 290 km north of Baghdad, is home to a mix of Arabs, Kurds and Turkomen, who all have competing claims to the oil-rich area. The Kurds want to incorporate it into their self-ruled region in Iraq's north, but Arabs and Turkomen are opposed. Ten days ago the tensions escalated to a full-scale stand-off between the Kurdish forces and the Iraqi army.On Monday, the office of Iraqi Prime Minister Nuri Maliki promised an end to the crisis as the parties to the conflict appear to have reached a deal to pull their forces back from Kirkuk and other disputed areas to previous positions.
You can share this story on social media: