Sumo wrestler stole 90 kg payment terminal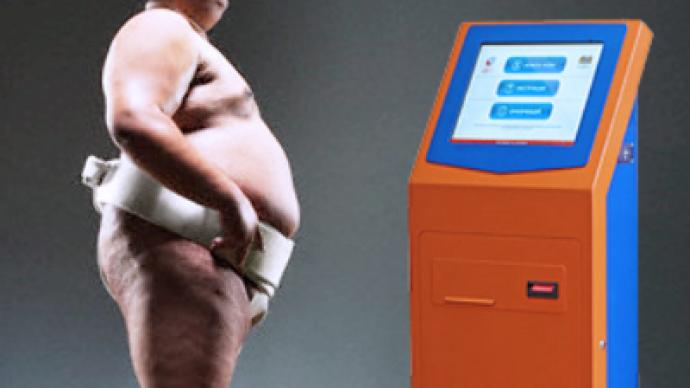 Moscow police were hot on the trail of two perpetrators who snatched a payment terminal from a shop. One of them turned out to be sumo wrestler, a guy capable of carrying a device weighting 90 kilos on his back.
A saleswoman called police as early as 6:00 AM, saying two unidentified young men entered the shop she works in and without further discussion started to extirpate a terminal that accepts cash payment. The woman tried to repel the robbers but after being advised to "shut up or it's gonna get worse," opted for the former. She dared to call the police only after the bounty hunters retreated.
The information about the incident was passed along to all patrol cars in the district and soon enough police officers blocked a BMW with missing register plates and properly tinted windows that the robbers used to carry the terminal to a safer place and arrested both raiders.
The sportsman and his sidekick were identified as citizens of an unnamed former Soviet republic, though they were officially registered in the Moscow region. The big guy explained that because he is a professional sumo wrestler he had managed to lift up and load into a car a whole 90 kilos of metal – and money, to be exact, 25,000 Russian rubles, less than $1,000.
Curiously enough, the second robber tried to cover for the wrestler by saying that he had deceived the sumo guy, arguing that he had not been told it was going to be a robbery, but rather collecting a terminal originally belonging to the sidekick.
According to Russian law, such a robbery can be punished with as much as 12 years in prison, though in this case such a course of events is doubtful because no one was hurt and no money was lost.
You can share this story on social media: