Twin suicide bombings in Afghanistan kill 14, wound over 60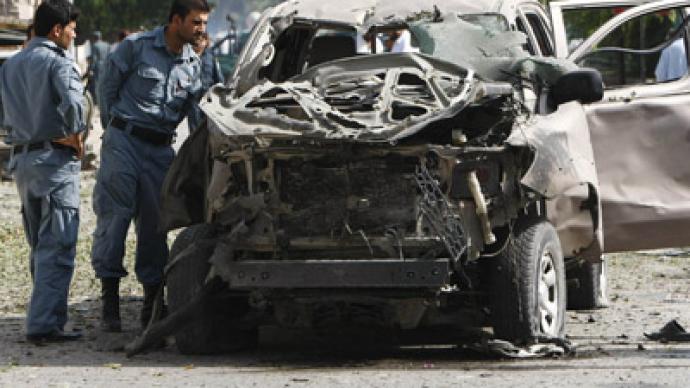 Taliban insurgents detonated two bombs in a coordinated suicide attack against a central Afghanistan NATO military base on Saturday, killing 14 and wounding at least 69.
The bombings occurred in the Sayedabad district of central Afghanistan's Wardak province. The first suicide bomb attack by an insurgent on foot was followed by a truck bomb, demolishing a bazaar near the base. "A suicide bomber on foot detonated near the gate of the base in Sayedabad, Wardak province, opening the way for a truck suicide bombing that followed him," Shahidullah Shahid told AFP. Shahid described the truck bomb as "massive.""The number of wounded is so high that it can hardly be counted. Lots of people have been wounded and much of the Sayedabad bazaar has been destroyed," Wardak police spokesperson Abdul Wali said.Four policemen and nine civilians were killed in the attacks, officials say. The Taliban has claimed responsibility for the bombings.Violence across Afghanistan has spiked ahead of the 2014 deadline for a NATO to withdraw most of its troops from the country. The attacks are likely an attempt to undermine the transition process. The NATO base in Wardak was also hit by an attack last year, on the eve of the tenth anniversary of the September 11th attacks. A suicide bomber killed four civilians and wounded 77 US troops when he drove into the base and detonated an explosive device.