Satellite images point to airstrike destruction of Sudanese arms factory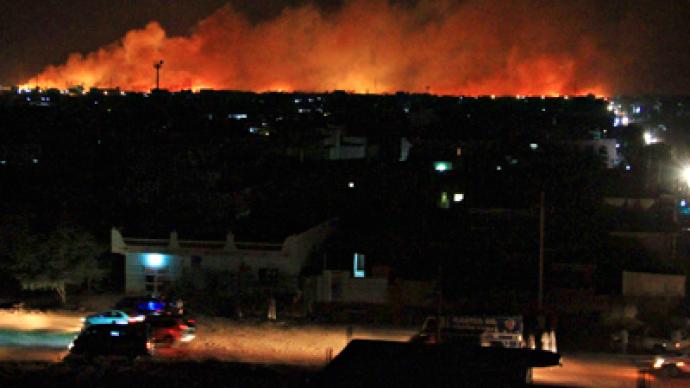 Sixteen-meter craters at the site of Wednesday's Sudanese weapons factory explosion point to a surgical airstrike, a US-based monitoring group said. Earlier, Khartoum accused Israel of destroying the plant, reserving the right to retaliate.
The shots released by the Satellite Sentinel Project (SSP) to the Associated Press support the Sudanese government's accusation that the Yarmouk military complex had been bombed. The blast on October 23 caused the ammunition to explode for hours, threatening homes in the neighborhood adjacent to the factory and causing chaos among residents. Two people were killed and many others suffered from smoke inhalation.Experts consulted by the SSP have confirmed air bombardment of the site which destroyed the complex.Military specialists found the site, "consistent with large impact craters created by air-delivered munitions," Satellite Sentinel Project spokesman Jonathan Hutson told the AP.The group also said that the images indicate that the explosion "destroyed two buildings and heavily damaged at least 21 others," adding that there was no sign of fire damage at the fuel depot inside the military complex.The observed craters were centred in the area of the complex where some 40 shipment containers had been stacked, the SSP further noted."If the explosions resulted from a rocket or missile attack against material stored in the shipping containers, then it was an effective surgical strike that totally destroyed any container" that was at the location, the project said.SSP did not comment on the allegations of Israeli involvement in the destruction of the munitions plant. Initial official reports from the accident suggested an accidental explosion in a storage room, but Sudan later blamed Israel for launching the attack. "We believe that Israel is behind it," said Information Minister Ahmed Belal Osman, adding that the planes had approached from the east.Tel Aviv has so far neither confirmed nor denied striking the site, but has accused Sudan of being a key transit partner in supplying Hamas and Hezbollah with weapons. Israeli officials suggest that arms smuggled to Gaza and Lebanon originate in the Iranian port of Bandar Abbas then get to Sudan before crossing Sinai desert into Gaza through underground.