Israel govt calls for mass deportation of African immigrants (PHOTOS)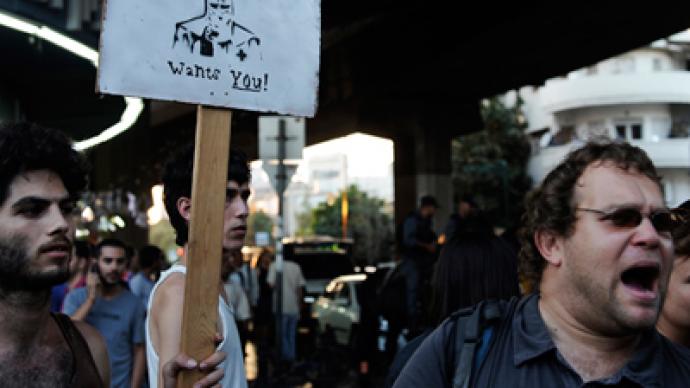 Israel's government has announced its plans to speed up the deportation of at least 25,000 African immigrants living illegally in the country. Human rights supporters have decried the move and branded the mass expulsion of migrants as "immoral."
A law also came into effect on Sunday allowing Israeli authorities to detain illegal immigrants for up to three years without trial or deportation.
Israeli PM Benjamin Netanyahu issued a statement to his ministers urging them to accelerate plans to expel immigrants from South Sudan, Cote d'Ivoire, Ghana and Ethiopia.
Human Rights organizations regard the new measure as a violation of the United Nations Convention Relating to the Status of Refugees.
Plans are in place to deport over 700 immigrants in the coming days. Netanyahu's government brands them as "infiltrators" and sees them as a threat to the Jewish demographic in the country.
The Israeli government cannot legally repatriate immigrants from Eritrea, Sudan and Somalia because their lives would be at risk upon their return. They make up around 35,000 of the 60,000 African immigrants currently living in Israel.
"Whoever can be sent away should be sent away from here as quickly as possible," said Netanyahu on Sunday, adding that "it's clear that we cannot return Sudanese and Eritreans to their countries."

However, according to the new law any immigrants caught by the Israeli authorities without documents may be subject to the three-year sentence.
Many migrants who take refuge in Israel are fleeing from war or persecution in their countries of origin, but very few are granted official refugee status by the government. Many live on temporary visas and subsist on menial jobs.
African immigrants have become the target of many protests recently in Israeli society. They are blamed for rising crime and violence in the country.
All of the migrant workers caught by the Israeli authorities so far have been transferred to Saharonim detention center which has a capacity of 2,000 spaces. The Interior Ministry predicts the center will reach maximum capacity next month and a currently working on expanding it to accommodate 5,400.
A migrant home was torched on Sunday night, trapping 10 Eritrean migrant workers inside, two of whom were injured. Graffiti was found at the scene that read "leave the neighborhood," raising suspicions of arson.
Tel Aviv has played host to anti-immigrant demonstrations over the last couple of weeks, thousands taking to the streets demanding the expulsion of all asylum-seekers and immigrants.
Although PM Netanyahu has condemned the protests, there is growing anti-immigrant rhetoric in the Israeli government.
"The infiltrators along with the Palestinians will quickly bring us to the end of the Zionist dream," said Interior Minister Eli Yishai to Maariv newspaper, adding the "Muslims that arrive here do not even believe that this country belongs to us, to the white man."
Aryeh Eldad, a right-wing politician urged Israeli troops to fire upon any "infiltrators" that penetrated its borders, rather than only those suspected to be carrying arms.
Left-wing lawmaker Dov Henin rounded on the new measures the Israeli government is taking, branding them as "immoral."
Israel is currently building a fence across its border with Egypt in an attempt to stem the flow of African migrants and Islamist militants into the country.
Israeli protestors wave banners and Israeli flags during a right-wing demonstration against African migrants in the city of Tel Aviv on May 30, 2012 (AFP Photo / David Buimovitch)
­
An African migrant stands as a right-wing protestors walk past holding Israeli flags and banners during a demonstration against African migrants in the city of Tel Aviv on May 30, 2012 (AFP Photo / David Buimovitch)
­
Children cross the street as residents of south Tel Aviv carry Israeli flags during a protest against African migrants living in their neighbourhoods on May 30, 2012 (Reuters / Baz Ratner)
­
An Israeli police officer arrests a woman during a right wing demonstration against African migrants in the city of Tel Aviv on May 30, 2012 (AFP Photo / David Buimovitch)