UN base in South Sudan attacked by 'peaceful' mob, dozens dead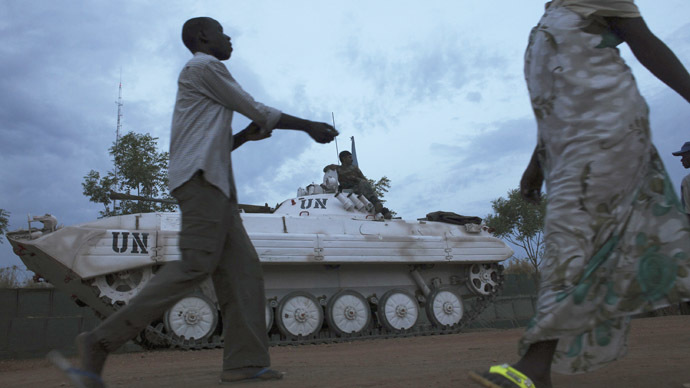 Gunmen posing as peaceful protesters forced their way inside the base of the UN mission in Bor, where some 5,000 civilians are seeking protection in the four-month-long conflict, and opened fire, reportedly killing dozens.
At least 48 people were killed and 60 wounded in a brazen attack on the fortified UN compound in northern Jonglei state, where Indian and South Korean UN peacekeepers are stationed, an anonymous UN source told Reuters.

Toby Lanzer, the UN's top aid official in South Sudan, told the BBC there was a "significant loss of life," after a mob had approached the UN compound base on Thursday morning under the pretense of wanting to present a petition.

More than 1 million people have fled their homes since violence broke out in mid-December between federal troops loyal to President Salva Kiir against rebellious troops who have sided with Riek Machar, the former vice-president, in 2013.

Tens of thousands of civilians are seeking UN protection from the conflict.

UN spokesman Stephane Dujarric said the attack on innocent civilians and UN personnel marks "serious escalation."

According to Dujarric, the attack was planned in advance.

"The assailants - a mob of armed civilians - came to the base under the guise of peaceful demonstrators intending to present a petition to UNMISS [the UN peacekeeping mission]."

"The armed mob forced entry on to the site and opened fire on the internally displaced persons sheltering inside the base," he said. "At the time of the attack there were some 5,000 displaced civilians ... inside the base."

The injured were being treated at the UN compound's clinic.

The number of displaced civilians in the UNMISS compound has risen to 12,000, according to the UN's website, adding that thousands of displaced persons assembled near the Bentiu Hospital and the UN World Food Program (WFP) compound.

UN Secretary-General Ban Ki-moon, who just one day before the attack said that up to 1 million people face potential famine as a result of the conflict, condemned the attack, which he said "constitutes a war crime."

Despite South Sudan gaining its independence from Sudan in 2011, pockets of violence continues to disrupt parts of the landlocked country in northeastern Africa.

At the same time, the instability has put a dent in oil production, a major source of the government's funds.