Suburban Muscovites object to new construction project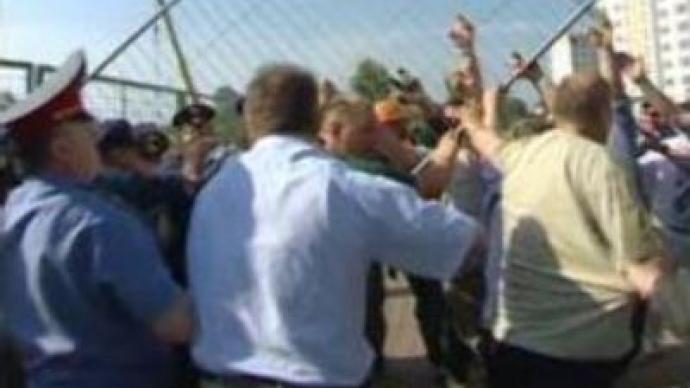 Residents of Moscow's Butovo district have clashed with authorities over a construction project. The residents are angry that new apartment blocks will replace their small country houses, which could lead to their eviction.
A normally calm district in southern Moscow turned into a scene of conflict on Tuesday as police clashed with the residents, who were trying to stop construction work.
"We came here today to protect our land as we want to live in our own houses in our own land. We don't want to live in boxes, in concrete apartment buildings,"
said Vladimir Zhirnov, the head of Residents Committee.While they say the government's actions are unconstitutional and violate human rights, the authorities deny the claim.
"A week ago a group of people representing Butovo residents was shown all the documents regarding the construction work at the site. The constructors have all the permissions required, so everything is done according to the law,"
says Elena Nikiforova, the local administration press secretary. But the protestors say they saw no legal documents and the compensation offered simply is not enough. The key issue appears to be the ownership of the land. The houses were built in Soviet times, and the dwellers believe they gained outright ownership when the Soviet Union fell. However, local authorities claim that the land is owned by the state and is to be used for the construction of mass housing for people on low incomes. Thus the small houses owners are not entitled to any compensation for the land.
You can share this story on social media: