Massive student protests return to streets of Montreal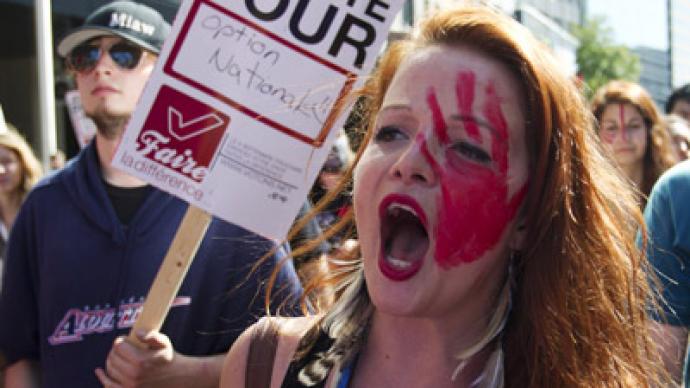 Thousands of students have rallied against tuition fee hikes in Quebec, an action organizers have trumpeted as a renewal of the protest movement.
The demonstrators marched through downtown Montreal on Wednesday ahead of Quebec's general election that will be held on September 4th.The voting will decide whether Premier Jean Charest's Liberal Party is reelected – who've run on a plan to drastically increase tuition fees to US$ 1,794 over seven years, a hike of 82 percent.While the numbers of protesters were smaller than the hundreds of thousands seen last spring – according to the Montreal Gazette – organizers of Wednesday's protest said it was the largest planned demonstration seen during an electoral campaign and that it signaled the revitalization of the protest movement."We already have far more than seen in the summer protests held on the 22nd of each month which drew about 10,000 people," Jeremie Bedard-Wien, spokesman for CLASSE, the largest and most militant of the student groups, said, according to the paper. "The mobilization is starting up again."Student associations FEUQ and FECQ called for students to vote en masse to oust the Liberal government that introduced the fee hikes.Despite many students taking decision to return to class, some intend to remain on strike, protesting the planned tuition hike and controversial Bill 78 – an emergency law that restricted demonstrations and introduced enormous fines."The strike is continuing in many faculties and many departments and universities and it will continue afterwards," Bedard-Wien said as quoted by The Canadian Press. "What we've put forward for students is this idea of popular mobilization."The spokesman for CLASSE believes that the current election – and the avoidance of student issues – explains why many of the protesters distrust the traditional political parties."We recognize that the three main parties that can cease power haven't made much of a case in support of education," Bedard-Wien said. "They haven't supported us much during the strike and we don't expect much from them at all — and that is why we argue for sustained mobilization."Many opposition parties, such as Parti Québécois, Québec solidaire, Option Nationale, and workers unions, have voiced their support of the student protest movement. Politician Marie Malavoy, from center-left Parti Québécois, urged students not to pay their fees for the semester. Her party promises to scrap Charest's planned tuition fee increase if they get elected. Premier Jean Charest had called on students to go to classes and said that he hopes the issue will be resolved by September's elections.
You can share this story on social media: