Several militant leaders killed in Russia's south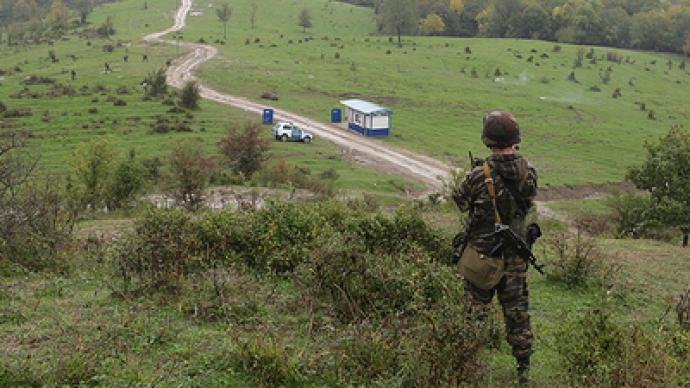 Russian security services have killed at least ten militants in a raid in the south, early on Friday morning.
The anti-terror operation, which was described as "quite successful", was conducted on the border between the Stavropol Region and Russia's Republic of Kabardino-Balkaria.A group of gunmen were cornered in a residential area by Russian security forces. As the militants refused to surrender and opened fire on security forces, the officers fired back, killing at least ten militants, among them two women. Officials say DNA tests may be required to identify the dead, but claim that several local militant leaders were among those killed. They were believed to be responsible for several high-profile crimes."They were not regular bandits, but high-profile ones", said Boris Karnaukhov from the regional investigative committee. "They are responsible for over a hundred crimes in the republic of Kabardino-Balkaria and other regions. They were meeting at their base in the house where they were killed."Reports suggest that among the dead militants was Kazbek Tashuyev, who was allegedly responsible for the explosion at  the  Baksan hydropower plant in the summer of 2010 and  the terror attack at the Nalchik racecourse in May last year.Asker Dzhappuev, the militant leader of the neighboring Kabardino-Balkariya, is also believed to have been killed. He is said to be responsible for an attack on tourists from Moscow in February this year and for killing nine hunters in Kabardino-Balkariya 2007.The operation is said to be one of the most successful in recent weeks. It stands in the same line with another anti-terrorist operation, conducted on March 30, in which several associates of Russia's most-wanted terrorist, Doku Umarov, were killed. There are no reports of any police casualties from the latest operation.Russia's North Caucasus remains the main training ground for terrorists in Russia. Although it has witnessed a number of successful anti-terror operations and dozens of militants have been wiped out in recent weeks, including a chief Al-Qaeda agent and the leader of Dagestani militants, it still remains the most volatile area in the country. Further checks and search operations are underway throughout the region and across the country.
You can share this story on social media: