Targeting terror in Dagestan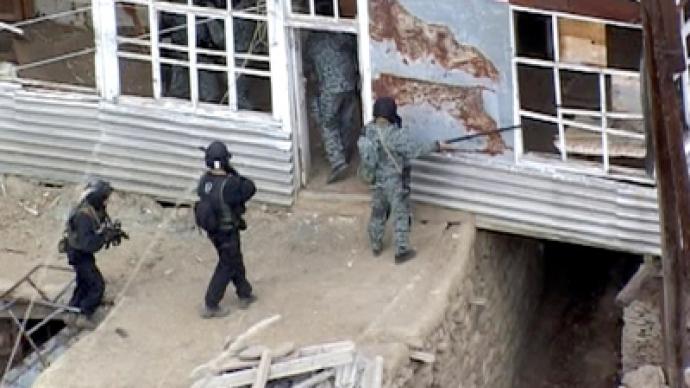 The front line in Dagestan, southern Russia, is not a battlefield of tanks and missiles, but of daily skirmishes, bombs and hit-and-run attacks. Police are combating extremists here on an almost daily basis.
More than 90 militants have been killed and dozens of terrorist attacks prevented, as part of security raids in Russia in recent months. However, Russia's Anti-Terrorism Committee says the North Caucasus remains the main hub for training terrorists.Akhmed Magomedov, local police company commander, is on constant guard. "Yes I'm afraid but there has to be someone to do this job," he says.And recently, the dangers of the job were brought home with a bang.Last month militants drove up and fired a burst from a Kalashnikov into the police station door, deflecting attention from their second car, left behind. Five minutes later that car exploded.As a result, seven policemen were wounded. The local prosecutor's office and federal security service building took the brunt of the blast.The local police chief, Askhabali Zairbekov, is under no illusion as to the ruthlessness of their opponents."As police, we have to use only legal means to fight these militants," he says. "However there is one but here. When these bandits do things like blowing up cars in busy streets, then we must fight them in their own way."The town of Kizilyurt itself is a modest trading center surrounded by villages, many of which are friendly to the hard-line Wahhabi form of Islam and the militants. It is typical of many such places throughout Russia's North Caucasus, which is struggling with radical Islamic insurgency.Locals refer to people joining the militants as having "gone to the forest", but cannot understand how they justify their acts."It's crucial to find a common language with those in the forest," says local woman Sakinat Amadadayeva. "There should be a way to reach some compromise.""Sometimes it feels like I live not in Dagestan, but in Afghanistan," shares another local, Ashkhabali Zairbekov, "Real Muslims wouldn't go to the forest. Islam is a social religion and the forest is for animals, not people.""I curse the Wahhabis!" declares Marjanat Askerhanover. "They are killing their brothers. They are not real Muslims."The town's 500 police are mostly Muslim, just like the militants. Even so, they are usually the main terrorist target.But they are keen to distinguish between hardened terrorists and new recruits."Of course young people who made a mistake and went to the forest should be given a chance to mend their ways," says the police chief. "But those who persist in killing civilians and policemen – we'll destroy them."Akhmed Magomedov has seen enough of his opponents to know about their methods and motives. However dangerous they are, he does not think he faces a special threat."Those who go to the forest are just bandits, like any criminals," he says. "They're just scum. And it's awful that they use Islam to disguise their aims."Police say their life at a checkpoint on the outskirts of the town over the past decade has been one of virtual partisan warfare. They are reinforcing the concrete barricades at the police station to be prepared for the next wave of Kalashnikovs and car bombs.And yet nobody seems to be able to answer those two most obvious of questions: how or when it might end?
You can share this story on social media: