No place for Stalin in Moscow Metro – activists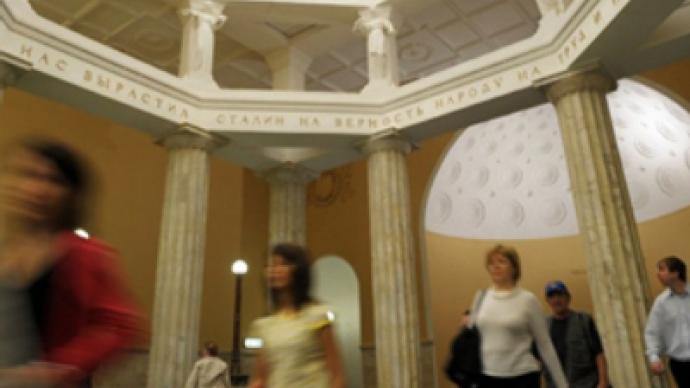 Human rights activists have sent an open letter to the mayor of Moscow demanding that a line from a Soviet anthem praising Stalin be removed from a newly-restored metro station in the Russian capital.
Several hundred people, including relatives of victims of Josef Stalin's repressions, have signed the letter written by Lev Ponomaryov, a human rights activist and Executive Director of the movement "For Human Rights".
After years of reconstruction works, Kurskaya subway station reopened on August 25 with all the same details as how it looked more than 60 years ago. The line from the Soviet anthem, written in the frieze below the station ceiling just as when it first opened in 1950, sparked public debate.
"We were raised by Stalin; he inspired our faith in people, our labor and deeds," it says.
In their letter to Moscow Mayor Yury Luzhkov, the human rights activists demanded that this line either be replaced with any other line which doesn't mention Stalin, or that part of the station's lobby be returned to how it looked just before the restoration.
They claim that the line is not the restoration of historical justice, but a perversion of history. It insults the memory of the victims of Stalin's repression.
Earlier, Russia's Orthodox Church said it considered it unnecessary to perpetuate Stalin's image in the Moscow Metro's décor.
The Moscow subway architects, however, say that it doesn't matter how the country has changed over the years and insist on using the original look of the metro.
Read also Moscow and Muscovites: Facts and fiction
You can share this story on social media: