Huge spy hub uncovered in Israel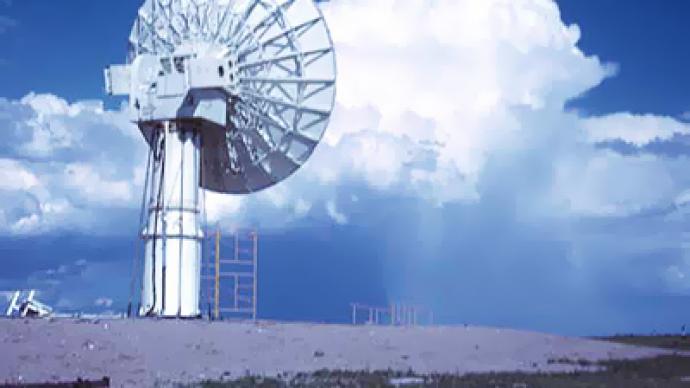 It has been described as Israel's 'big ears' – a huge facility where it is claimed phone calls and emails from all across the Middle East and beyond can be monitored for intelligence.
Hidden from prying eyes for decades in the desert, it has become a focus for investigative journalists. Many Israelis have probably driven past it and not cast a second glance. A few satellite dishes outside a little known town in the Negev desert. But, this is no ordinary military base."This is the largest or the largest equal spying facility that I have ever seen on earth," says Nicky Hager, an author and investigative journalist from New Zealand.And Hager should know: he has been studying signal intelligence – or electronic spying – for the last 25 years. A tip off gave him access to people on the inside."No one had ever talked about or understood that there could be something of this scale in Israel. It had simply never come on the map, it had never been seen," Hager continued.But now it is showing up all over satellite images, with thirty different listening antennas directed high over the equator – each targeting a different dish in the sky."They take everything that is passing over the satellite. The system simply doesn't discriminate and… everyone listens to everybody," a UK-based investigative journalist Duncan Campbell told RT.And that is a lot of listening… From the hub every telephone call, every email, can be intercepted. And according to Duncan Campbell, somewhere there, along the coast north of Tel Aviv, large groups of people are listening in."Typically, you have large, windowless – what look like industrial – warehouses, but with massive security. I've seen many such places across the Untied States and several hundred people will check in the morning, start filing through, checking emails, listening to telephone calls," Campbell continued.But inside Israel, no one is talking."I haven't heard about Urim, I don't know what the word base refers to," Israeli investigative journalist and author Ronen Bergman told RT."I don't know what exactly the reason behind the focus is on this one. It's just a platform. When it comes to intelligence you need a platform… in order to intercept whatever you want to intercept," Meir Elran of the Institute for National Security Studies explained.But why was the platform itself intercepted? It was well hidden until recently, when Hager went public on it."My first surprise was the scale, that there was this huge spying facility which will be profoundly influencing the politics of the Middle East and beyond. But then the second surprise was that it had clearly been there for as long as some of the bases that you find in Britain, and Germany, and Russia, and the United States," Hager said."Those who need to know, know exactly where it is and what it is," Meir Elran pointed out.
You can share this story on social media: