Austerity-era 'Robin Hood': Spanish mayor masterminds robberies to feed the poor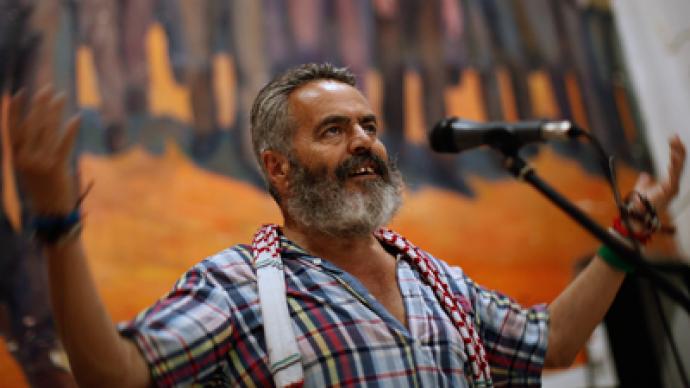 A Spanish mayor has become a cult hero in the austerity-gripped country after orchestrating several thefts at local supermarkets, giving the stolen food to the poor.
­The mayor proudly said he is ready to face prosecution, branding the poverty in Spain "a disgrace."During the thefts, Juan Manuel Sanchez Gordillo, mayor of the southern town of Marinaleda, was reportedly seen outside the shop shouting encouragement. Trolleys laden with staple items like pasta and oil were stolen by labor unionists intending to pass on the goods to struggling families in the area. Accused of masterminding two such raids, Sanchez Gordillo has so far avoided arrest due to political immunity for elected officials. In a bid to draw attention to the plight of the poor in the region, he has offered to drop his immunity. Seven people have been detained so far in connection with the robberies, which have earned Sanchez Gordillo and his followers widespread acclaim. A crippled economy has made Spanish unemployment rates the worst in the eurozone, particularly for those aged under 25. The mayor's home province of Andalusia is one of the worst-hit parts of the country, where one in three remain jobless.Speaking on the issue, Sanchez Gordillo said "there are people who don't have enough to eat. In the 21st century, this is an absolute disgrace."Elsewhere his actions have been met with criticism, a spokesperson for the conservative government, Alfonso Alonso, stressed."You can't be Robin Hood and the Sheriff of Nottingham," Alonso said, accusing the mayor of flouting the law and seeking publicity for himself at the expense of the public.Government reforms and a eurozone- and International Monetary Fund-backed austerity program have become increasingly unpopular in Spain.Again making headlines on Thursday, Sanchez Gordillo has begun a drive to convince local leaders to refuse to comply with government reforms. Starting in Jodar, one of the worst-affected areas under his stewardship, he hopes to combat stifling summer temperatures to raise awareness in the region. In recent months Spain has seen a string of anti-austerity protests as thousands have taken to the streets of the country's major cities in demonstrations that have at times turned violent.

Marinaleda's Mayor and IU (Izquierda Unida) Parliamentarian Juan Manuel Sanchez Gordillo (C), 59, shouts slogans next to members of the SAT (Andalusian Union of Workers) as they march between the towns of Jodar and Bedmar, in Jodar, southern Spain, August 16, 2012 (Reuters / Jon Nazca)