Spaniards tighten belts amid European crisis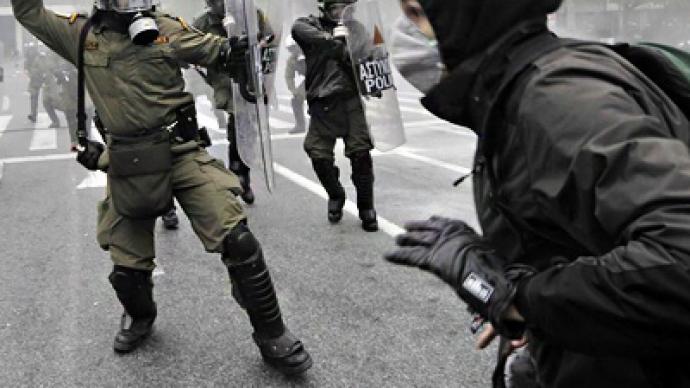 As strikes and demonstrations over austerity measures are sweeping across EU countries, Spain has become the latest to suffer.
Since the Irish financial crisis last month, there have been growing fears of a spillover effect on to other vulnerable European economies, such as Spain and Portugal.Scenes of public outrage from usually picturesque European cities have punctuated much of the past year for the continent.Just last month, European Union nations agreed to give $89.4 billion in bailout loans to Ireland to keep it from going bust, and – fingers crossed – to keep the faith in the euro.However some experts are skeptical."The bailout in Ireland has failed to calm bond markets," says Sam Bowman, head of research at the Adam Smith Institute. "The Irish bond yield is still extremely high and we're seeing Portugal and Spain creeping upwards as well, so I think we're probably going to see quite a difficult year for the Eurozone, if not the end of the Eurozone in the next couple of months."The latest to receive the blow are the Spaniards, with new austerity measures announced in early December. Within the framework of these measures, a special subsidy for people whose unemployment benefits have run out will not be renewed starting February.Additionally, a 30 per cent stake in Spain's popular national lottery will be privatized in an attempt to raise about $6.6 billion in a bid to stave off any outside measures."If consumption continues to be retreating, the possibility exists," says trade economist Jose Vicente Noguera. "It could happen. In fact, when it happened to Greece, the Spanish government insisted that Spain is not Greece. When it happened to Ireland, [the] government continued to insist that Spain is not Ireland. But Ireland also insisted that Ireland was not Greece. By this I mean that the domino effect can reach Spain."The country's leaders would rather slap tough measures on the public than risk tempting fate. But will these cost-saving moves be enough to save the nation? The government certainly thinks it is worth the gamble. The December payoff of the Spanish National Lottery is an annual treat many locals look forward to. Now, with the downward spiral of economies across Europe, individual financial security is under threat, and some think it might not be such a bad idea to rely on luck.Meanwhile, MEP Timo Soni says there is a possibility for Euro zone countries to revert to their former currencies, but this would be a huge blow to give up and say, 'This doesn't work'.
You can share this story on social media: