How to steal a cave painting: Thieves damage 5,000-yo rock in Spain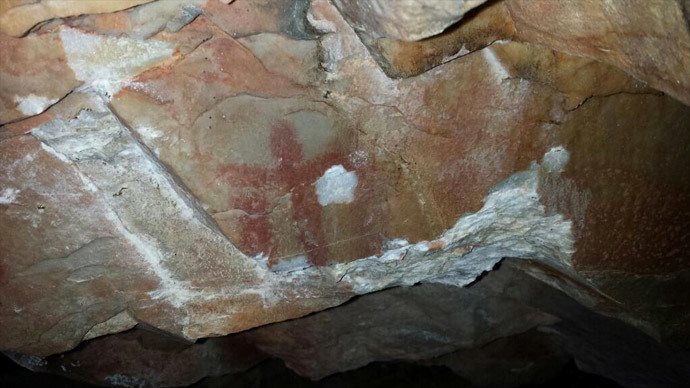 A 5,000 year old rock painting in the cave defined as World Heritage Site by UNESCO in southern Spanish Andalusia, has been "irreparably" damaged by thieves who tried to steal an artwork by cutting it out of a rock.
The painting located in Los Escolares Cave in Jaen province is now "irreparable," said local mayor Juan Caminero, Spanish daily La Vanguardia reported.
Caminero condemned the act, calling it "heartless," adding that local residents are outraged over the accident as the historic site was untouched by man for at least 5,000 years.
The damage was noticed Saturday morning by a group of visitors in Despenaperros National Park of municipality Santa Elena where the cave is located.
The visitors saw rock fragments and fine dust while the painting itself looked like if someone was trying to cut out the artwork with a pick-ax.
Meanwhile, Spanish Civil Guard has already started investigating the case.
Los Escolares Cave was discovered 41 years ago on March 3, 1973, by a group of scholars. The cave is a small hole in the rock, about 1.5 meters wide and 1.5 meters deep.
It is a part of a huge caves ensemble of the Mediterranean Basin on the Iberian Peninsula listed as a UNESCO World Heritage site. The series of late prehistoric paintings in these caves provide an exceptional picture of human life in a seminal period of human cultural evolution, according to UNESCO.
The images, depicting hunting activities, combats and executions, were mostly painted in red, black and white in the caves.
Jaen province has at least 42 UNESCO World Heritage sites and along with Cordoba, Almeria, Granada, Malaga and Cadiz, is considered one of the most important areas of prehistoric archaeology.
However, according to the Speleology Federation of Andalusia (FAE), a great majority of the prehistoric caves of Andalucía are not protected and their conservation is in danger.
"A lot of these places are abandoned and need greater supervision," FAE president José Antonio Berrocal told The Local. "Although there is legislation protecting these sites in theory, there is a lack of political will."
The region needs "a system of continuous monitoring with officers coming around periodically to monitor the situation," he said. "In some cases, closing off those caves may be the only option to protect world heritage paintings."
You can share this story on social media: