EU 'very concerned' by Spanish police use of rubber bullets to deter migrants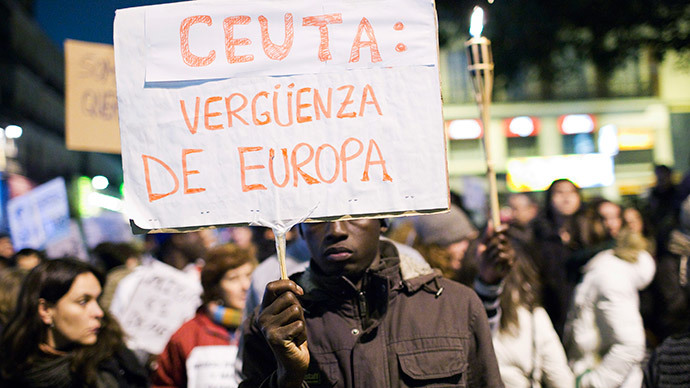 The European Commission wants Spain to account for the drowning of 14 migrants who recently failed to swim to Ceuta, a Spanish enclave in North Africa. Spain earlier admitted that rubber bullets were fired at them, but claimed no one was injured.
"The commission will be requesting explanations from the Spanish authorities on these events," EU Home Affairs spokesperson Michele Cercone said, adding that the commission has a right to act if there's evidence that a member state has violated EU laws.

On Thursday, Spanish Interior Minister Jorge Fernandez Diaz admitted that local border police, in an effort to turn back around 200 migrants who tried to cross the frontier between Morocco and Spain's Ceuta on February 6, had indeed fired rubber bullets at them.

While some tried to cross on land, at least fourteen migrants drowned in the Mediterranean trying to swim around a man-made breakwater that separates Moroccan and Spanish waters. Spanish police say they are still searching for more victims.

According to the Spanish Interior Minister, the rubber bullets were fired at a distance of 25 meters to deter people from entering Spain while they were in the water. Diaz told a parliamentary commission that the shots were never intended to hit the migrants, whose behavior he described as aggressive. Spanish police posted online video footage of migrants throwing stones at the border fence. The footage didn't show what had happened when some of them tried to swim around to Spanish land, however. Ceuta, on the north coast of Africa across the Strait of Gibraltar on the Mediterranean Sea, has a population of about 83,000.

According to the online newspaper EUObserver, 23 people managed to make it to Ceuta's El Tarajal beach, but were immediately turned over to Moroccan authorities. Under European asylum and migration law, anyone who steps foot on member states' territory is eligible to have their asylum request reviewed before being deported. Although Spanish Interior Minister admitted a group of migrants made it to the beach, Diaz said the group did not enter Spanish territory, since they allegedly never made it past the line of waiting border guards.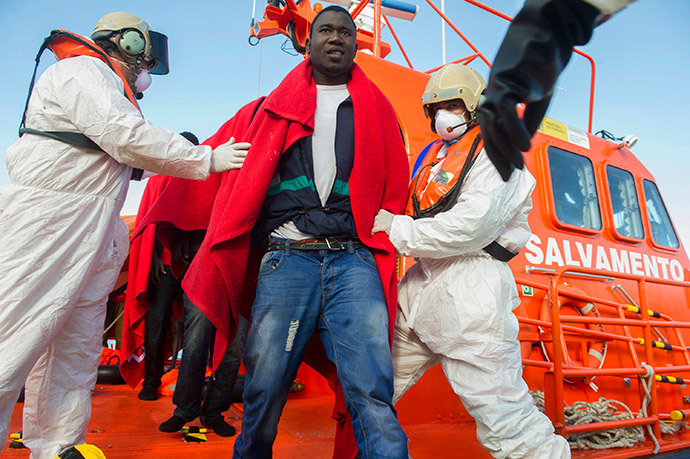 Meanwhile, the EU Commissioner for Home Affairs Cecilia Malmstrom said she was "very concerned about Spanish police using rubber bullets to deter migrants."
"I expect clarifications from the authorities," Cecilia Malmstrom wrote on her Twitter account.
Thousands of Africans try to reach Europe via Spain's Ceuta and Melilla (a Spanish city and an exclave located on the north coast of Africa, sharing a border with Morocco) each year, either by swimming or climbing the walls marking the border with Morocco. Spanish and Moroccan border patrols jointly monitor the area. According to the Spanish news agency RTVE, this year alone border patrol services intercepted up to 4,370 migrants trying to enter Spain. According to official data, up to 3,000 illegal migrants entered Spain in the first half of last year, double the figure for the same period in 2012.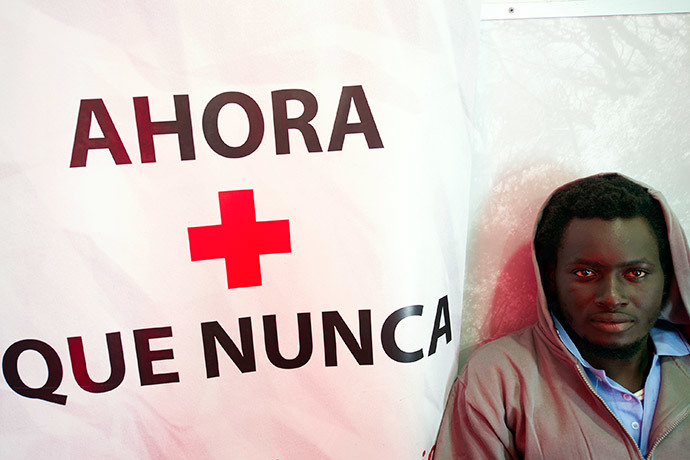 Human rights watchdog alarmed by treatment of migrants
Earlier this week Human Rights Watch released a 79-page report on treatment of sub-Saharan African migrants in Morocco, in which it stated that Moroccan security forces "commonly beat, otherwise abuse, and sometimes steal from sub-Saharan migrants in the northeastern part of the country." The report has found that part of the abuses occurred as the security forces took custody of sub-Saharan migrants who had failed to reach the Spanish enclave of Melilla. Human Rights Watch says their research in late January and early February 2014 indicated that Moroccan security forces are still using violence against migrants expelled from Melilla.

Spanish security forces also use excessive force when they summarily expel migrants from Melilla, according to Human Rights Watch, whose report is based on interviews with 67 sub-Saharan migrants in and around the cities of Oujda (a city located in North-East of Morocco, about 55 kilometers south of the Mediterranean coast) and Nador (a city in the northeastern Rif region of Morocco, linked to the Spanish city of Melilla, 10 kilometers to the north, by a semi-motorway).
"Spain should stop all summary returns to Morocco at the Melilla border, and suspend forcible returns to Morocco of migrants reaching Melilla until Morocco demonstrates that they are no longer at risk of beatings and other abuses upon their return and that their rights are protected," the watchdog stated on its website.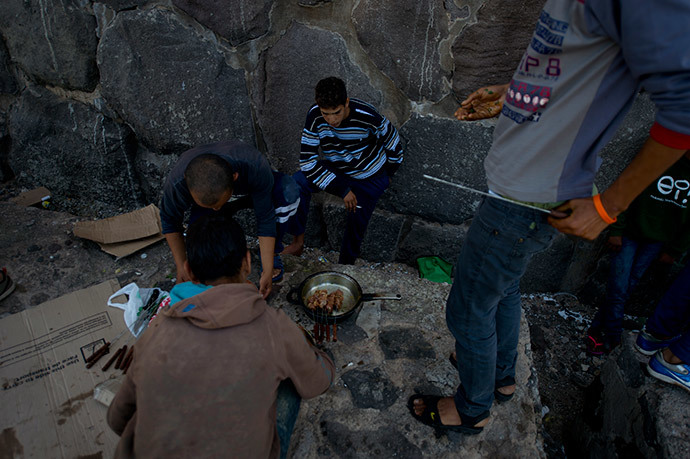 Among those that Human Rights Watch had interviewed weer five migrants who stated that during an attempt to scale the Melilla perimeter fence in the early hours of February 2, the Spanish Guardia Civil and the Moroccan Auxiliary Forces employed excessive force against them.

One of the migrants, 31-year-old Joseph from Cameroon, told Human Rights Watch he went toward the fence in an effort to get into Spain.

"A few of us managed to enter Melilla but the Guardia Civil stopped us. They hit us with clubs. They hit us very hard for five to 10 minutes. They handcuffed us [with plastic restraints], and then they opened the gate in the fence and handed us over to the [Moroccan] Auxiliary Forces."
The man told the watchdog that the Auxiliary Forces also hit them with clubs, and allegedly stole $30 from the man and his mobile phone.

"They made us lie face down on the ground, still handcuffed. We stayed on the ground for an hour while they hit us. They hit me on the eye with a stick. They only stopped hitting us when more senior officers came."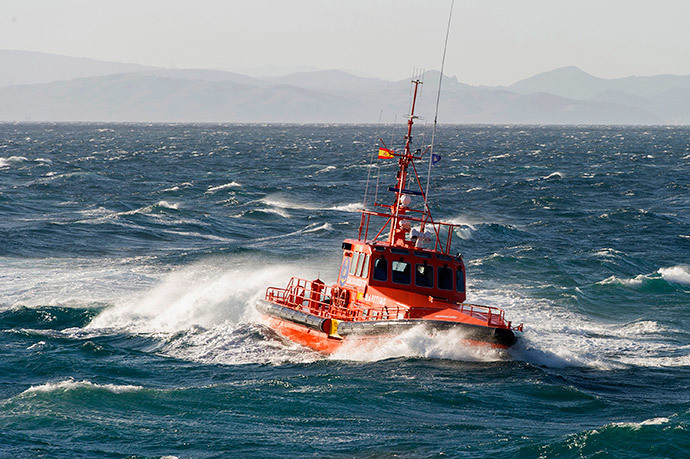 Another Cameroonian, Martin, 22, recalled that when they arrived to the fence, the sirens started wailing.
"I could see my friends who were inside [Melilla]. The Guardia Civil hit my friends with big sticks. Not police clubs, but sticks. They hit you until you faint… I retreated back to the Moroccan side. When I came back down, they [Moroccan Auxiliary Forces] hit me. They handcuffed me, and then made me lie down on the ground, face down. They searched me and stole my money, my phone, and even my shoes."

Although Spanish law requires security and border forces to follow deportation procedures in removing migrants who enter Spain illegally, Human Rights Watch says these returns "also violate international and European Union (EU) law, which prohibit countries from forcibly returning anyone to a place where they would face a real risk of being subjected to inhuman and degrading treatment."

The watchdog has urged Spanish authorities to ensure diligent investigations of allegations of excessive use of force by its own forces and exert pressure on Morocco to end the use of unwarranted force against migrants.
You can share this story on social media: