"Spanish revolution" in full swing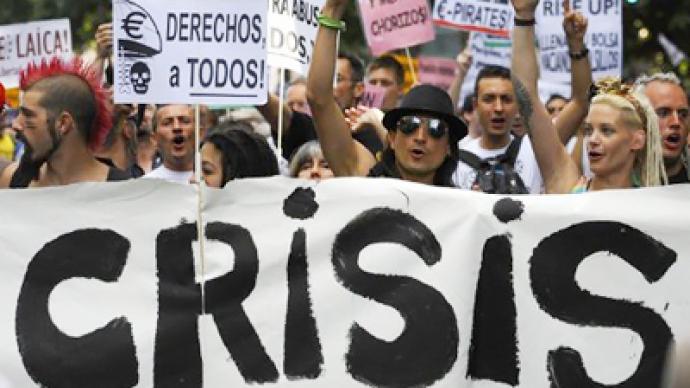 Thousands of protesters are gathering in cities across Spain daily to show their discontent with the current economic situation. They claim the government has failed to tackle the recession and high unemployment rates in the eurozone.
A huge crowd gathered on Madrid's Sol Square on Sunday, after many had marched for weeks from every corner of the country declaring it.The cash in Spain is going mainly down the drain, say thousands of people who rallied across the country. The Spanish media and the protesters themselves are referring to this as the "Spanish revolution.""We are going to follow in the footsteps of the Latin American countries, like Paraguay, Mexico," said protester Juana Lacuerda. "The government is controlled by the European Bank, IMF, WTO; they don't care about the people."So the people decided it is time to voice their concerns loud and clear before they lose more than just the shirt off their back.Spain has one of the highest unemployment rates in the Euro zone. So while EU leaders have been meeting occasionally in comfortable quarters to talk about the future of the euro and the European union itself, people in the country have been demonstrating almost every week, demanding the government shape up, stop talking and do something about the situation.This is not just about higher wages and better pension plans. With more than 40 percent of young people in Spain unemployed, simply getting a job is a priority for those who gathered in Madrid's central square."The major part of the responsibility rests with the government. On the one hand, at the beginning of the crisis the government did not create the conditions to fight it. It reacted when it was very late. And on the other hand, once the government knows what to do, it is not doing its job properly," Carlos J. Moreiro Gonzalez, a professor from the University of Carlos III, told RT."We want the people to wake up; otherwise we'll just become slaves to the system. We want to be treated as humans," said Lacuerda.And they believe they can make a difference. Some even said they were considering continuing the march to Brussels to keep their protest in the public eye.With Greece in shambles and neighboring Portugal trashed by the rating agencies, Spain is facing not just a financial, but a deepening social crisis. Members of the so-called 'indignant marches' say they want their dignity preserved. When their calls will be heard is another issue.
You can share this story on social media: