'NO'! Thousands flood Madrid in second day of anti-cuts demos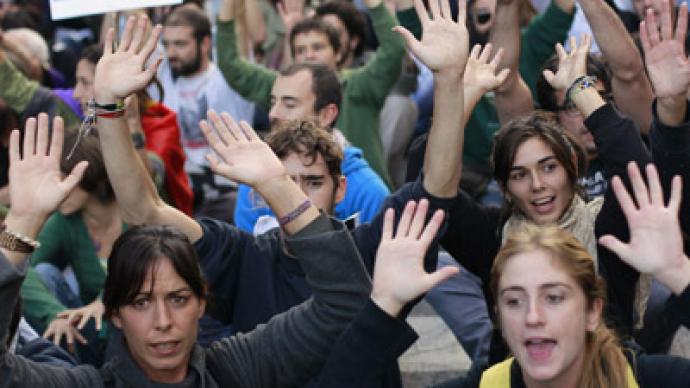 Following a violent police crackdown on Tuesday, thousands of Spaniards returned to Madrid's Plaza de Neptune to continue protests against a new round of highly contentious austerity measures.
For the second day running, thousands of demonstrators led by the so-called 'indignados,' or outraged, descended on the square – some 100 meters from Spain's parliament building. Many in the crowd chanted "Government, resign!" while holding signs with the slogan "No!" referencing opposition to the planned austerity measures.A tense standoff ensued between demonstrators and police, who formed a security cordon around the square. The police eventually retreated, and the protesters poured into the square amid jubilant cheers.Pamphlets were circulated through the crowd imploring those present not to repeat Tuesday's mistakes. The tract recommended a nonviolent sit-in protest, urging demonstrators not to provoke the police and provide a pretext for another crackdown.Minor scuffles periodically broke out between protesters, though in each case they were quickly resolved without police intervention.As the largely peaceful protests in Madrid continued into their second day, scattered reports of police brutality and violence surfaced. RT correspondent Fernando Ausin was assaulted in a police charge while recording the second day of the 'Surround Congress' demonstrations.As police evicted demonstrators from Neptune Square at 23:30 local time (22:30 GMT), Ausin was filming the roughly 200 remaining protestors when police forced him out of the area and assaulted him with batons. Ausin was clearly marked as press at the time. "Back in the office … A little sore but all OK!" Fernando wrote on Twitter after the incident.Wednesday's protests were not authorized by the police, while Tuesday's rally had received official permission.The demonstrators called for new elections, claiming the proposed austerity measures proved that the ruling Popular Party has lost its legitimacy by failing to keep its promises.The Bank of Spain said Wednesday that the country, where one in four faces unemployment, is in the grips of a deep depression.Evictions have also skyrocketed across Spain as thousands have failed to repay bank loans. Many protesters were particularly enraged that the government was making cuts to health, education and public sector salaries while pumping funds into the country's ailing banking sector to keep it afloat.Clashes erupted Tuesday between protesters and police, who used batons and rubber bullets to disperse the crowd.The violent protest led to 38 arrests and 64 injuries, including eight police officers. The growing tensions come as the government is preparing a new round of austerity measures in its draft budget for 2013 on Thursday.