Manmade quakes: Spanish 2011 deadly tremor caused by water extraction - study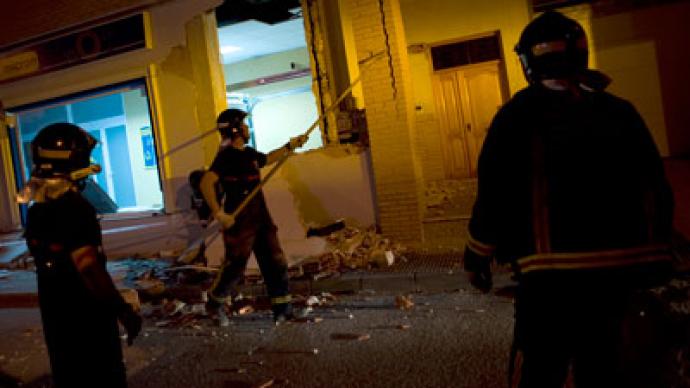 Massive groundwater extraction was behind the deaths of nine people, with 100 injured and thousands homeless, which was the toll of Spain's earthquake in 2011. New research links human activity with earthquakes around the world.
The earthquake in southeastern Spain in 2011 near the city of Lorca caught seismologists by surprise with its shallow depth (only 3 km), mild strength (5.1 magnitude) and extensive damage.In addition to the lives lost and injured, buildings were reduced to rubble and cars flattened. Scientists led by Dr. Pablo Gonzalez, from the University of Western Ontario in Canada, took it upon themselves to find the cause behind the quake.Researchers used satellite data to map the ground deformation caused by the Lorca earthquake and then modeled the data. They found a correlation between the water being sucked out of the ground to meet the domestic supplies and the quake.According to the study, loss of water changed the Earth's crust along the Alhama de Murcia fault line and that disturbance was enough to trigger an "elastic rebound" (a rupture) in the rock, leading to the earthquake. "Our results imply that anthropogenic activities could influence how and when earthquakes occur," report states.This adds further evidence to long-standing research that human activities can cause earthquakes. The findings were published in the journal Nature Geoscience. González and colleagues found the water table in the Alto Guadalentin Basin had dropped by 250 meters since 1960 due to groundwater extraction. "Modeling results are consistent with a groundwater crustal unloading process, providing a reasonable explanation for the observed fault slip pattern."Questionable responseIn response to new findings, Jean-Philippe Avouac, a geologist at the California Institute of Technology, argued that water extraction at Lorca might have accelerated a natural process of stress accumulation, but did not unleashed the earthquake by itself. Either way, he admitted that the ramifications of the study are far-reaching. Also, Professor Peter Styles from Keele University admitted that it is a very stimulating paper that provides further evidence to the field of human-induced quaked especially in the area of shale gas exploration. Research into quakes caused by human activities has been very prominent in the past few years. America's Geological Survey in 2011 officially confirmed that human-induced quakes can occur from injecting or extracting fluid from the Earth, such as water, oil, gas, and waste.And many of quakes all over the world in the past have been attributed to human behavior, including China's 2008 Sichuan earthquake, which caused approximately 68,000 deaths, is believed to have been triggered by the construction and filling of a dam.
You can share this story on social media: