Eco alarm: spacecraft crash kills endangered species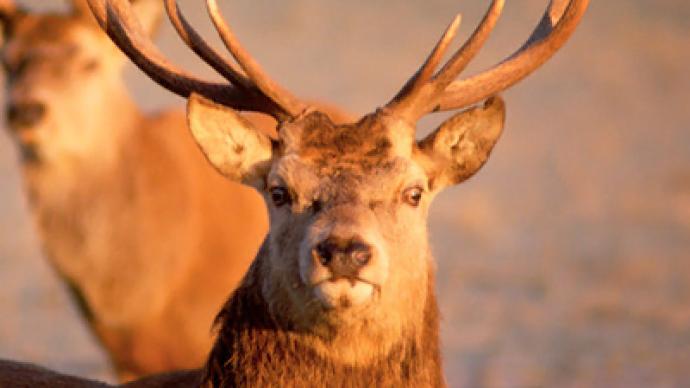 Species in the Altay Region in Siberia are in jeopardy after the space freighter Progress fell in the area, say scientists at a local university. They report mass poisoning by toxic rocket fuel and are calling for an independent probe.
Ecologists at the Gorno-Altaisk State University say the toxic menace caused by rocket debris in the Choysky district is affecting dozens of animals, including some endangered species, reports the online tabloid Life News."The rapid reduction of the animal population is an established fact," says Anastasia Todozhkova, who holds a PhD in chemistry. "The areas where the freighter's debris fell have been polluted. Rare animals like the red deer and the Siberian musk deer feed on it and die!"A local forester, Roman Basharov, says his colleagues have been coming across an increasing number of badly-damaged animals. "We find corpses with naked hides, all fur gone," he said, adding dozens of such gruesome finds have been discovered over the last month.The region's native Tubalar people say their hunter-gatherer lifestyle is at risk due to the damage to flora and fauna."We have lost our only source of income. We gather nuts, berries, mushrooms and herbs for a living," complains Maria Eldenova. "After the spacecraft fell we can't sell them. People are afraid of oncology diseases."Activists believe the Russian space agency and other authorities are underestimating or even hushing up the scale of contamination."We don't believe in what Roscosmos and the Emergencies Ministry report. They report that there is no poisoning and no sick people. But people do get sick, the animals flee and plants wither. You can see the disaster with the naked eye," says Eldenova.Some even say there is a conspiracy to cover up the truth."Roscosmos is hiding information about the fuel tank and the site where they've discovered it. But they are well aware of it," claims eco-activist Yury Robertus.He blames the highly-toxic rocket fuel oxidizer dinitrogen tetroxide for poisoning local wildlife. The substance is highly corrosive and causes severe chemical burns. Its vapors harm lungs severely if breathed it.The Russian ecological regulator denies any environmental problems in the wake of the crash. It said on Tuesday that it took samples of soil, water and plants and found no evidence of contamination.The Progress M-12M spacecraft failed to launch into orbit on August 24 when the third stage of the Soyuz-U rocket malfunctioned. The vehicle and the freighter crashed in a remote area of the Altay mountains.It took the rescue service several weeks before they managed to find the debris. The search operation in the area was put on hold last Friday due to bad weather conditions, and will resume later, Roscosmos reported. It is suspected that most of the freighter and the third stage have burned down completely.
You can share this story on social media: