Germany critical of 'populist' call to remove tanks from Berlin Soviet WWII memorial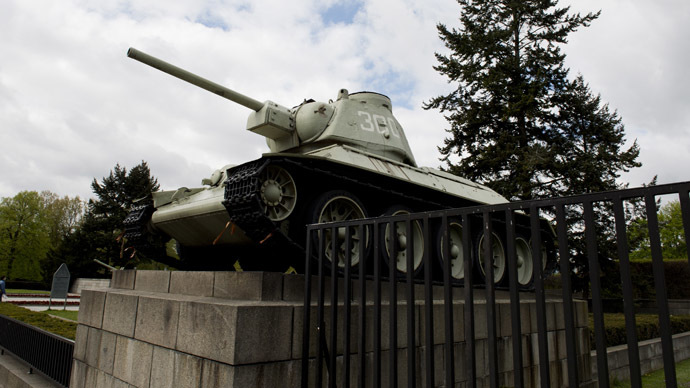 Influential and public German organizations have condemned a call by the top-selling tabloid, Bild, to remove two tanks from a Soviet World War II memorial in Berlin in protest against Moscow's stance on the Ukrainian crisis.
The "populist" initiative is wrong in a historic and legal context and "will not help to establish mutual understanding between the Germans and Russians at times of difficult conflicts," said the heads of Petersburg Dialogue and German-Russian public forums in an open letter to Russia's Ambassador to Berlin.
Germans, who are historically responsible for the killing of over 20 million Soviet people, "must honor and respect the monument…symbolizing the liberation of Germans by the Red Army," Lothar de Maiziere and Matthias Platzeck said, as cited by Itar-Tass.
Despite the differences in positions between the West and Russia, Petersburg Dialogue and German-Russian public forums "are set to continue the path of dialogue and mutual respect," they added.
The German politicians were commenting on the petition launched on April 15 by the country's best-selling newspaper, Bild, and its affiliate the Berliner Zeitung daily.They urged their readers to send letters of protest to the parliament and demand the removal of the two T-34 tanks at the Soviet War Memorial in Berlin's Tiergarten Park, next to the Brandenburg Gate.
"The reason is: in an era when Russian tanks are threatening free and democratic Europe, we don't want any Russian tanks at the Brandenburg gate," read an extract of the letter, quoted by Reuters.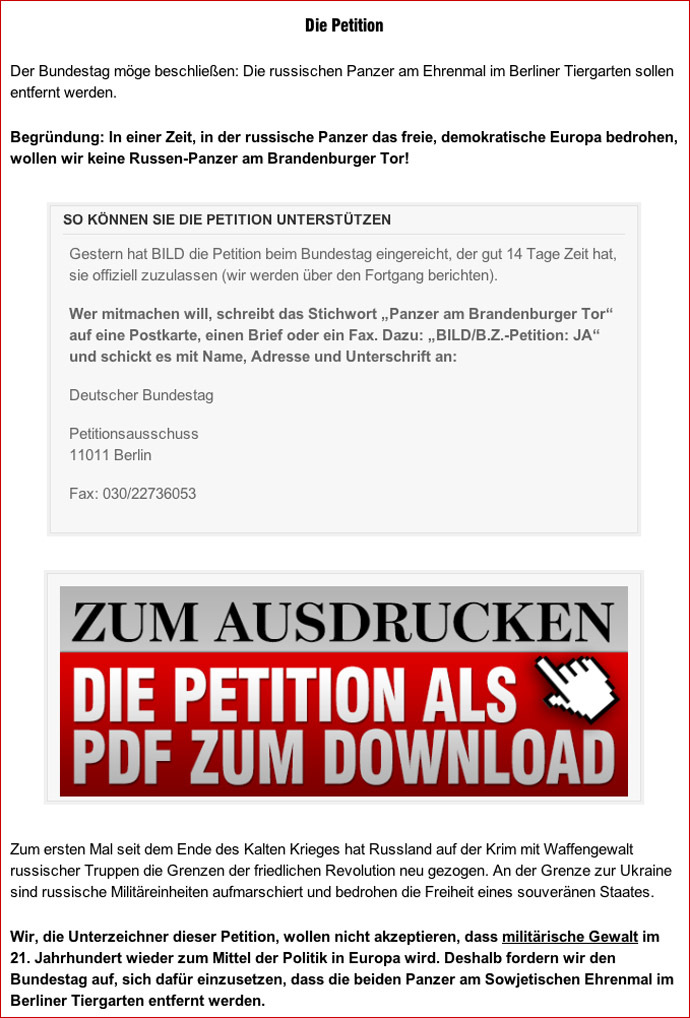 Moscow called the idea a fruitless waste of time. "It is an attempt to launch yet another propaganda bubble counting on its viability and long-term effect," the Russian Foreign Ministry said in a comment on Friday.It recommended the masterminds of the "provocation" not to dissipate their time and energy fulfilling it.
The ministry also said that it was "satisfied with the efficient response by the German officials" on the matter.
The Berlin authorities rejected the petition to remove the Soviet tanks a day after it was published. Chancellor Angela Merkel's deputy spokesman, Georg Streiter, said that Germany had signed a 1990 treaty with Russia pledging to "respect, maintain and care for" Soviet war monuments in the country in their current form.
"The German government complies with this commitment and honors this particular way of commemorating fallen Red Army soldiers," he told journalists on Wednesday, AFP reported.
The two Soviet tanks have been part of the monument complex ever since it was built in 1945 to commemorate those who lost their lives defeating the Nazis.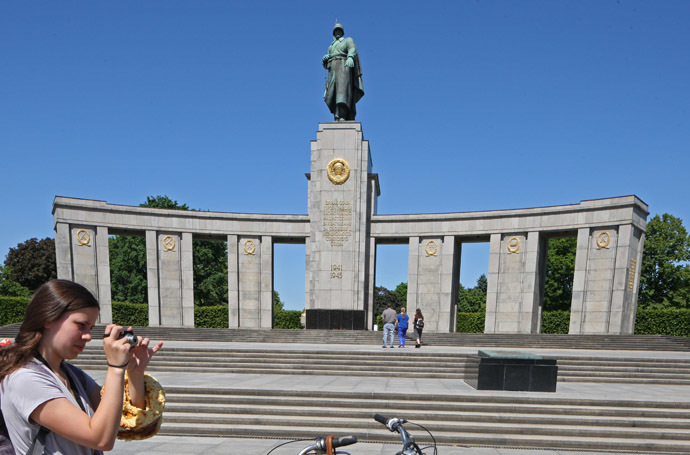 You can share this story on social media: