New S. Korean missile brings entire North in range
South Korea has successfully test-fired a new ballistic missile capable of delivering a payload of one ton to any part of North Korea, the country's defense ministry said.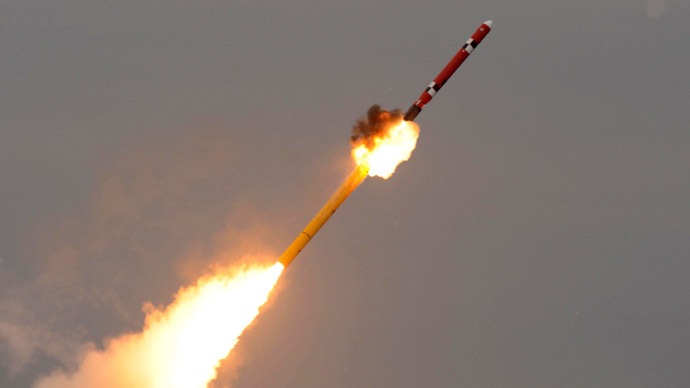 "We test-fired it and we succeeded," Kim Min-seok, spokesman for the South Korean Defense Ministry, is cited as saying by Reuters.

Friday's announcement is likely to add to the latest tensions on the Korean Peninsula, as the new missile's range of 500 kilometers sees a significant boost to the South's strike capability.

The rocket was developed in accordance with a 2012 agreement between Seoul and Washington, which allows South Korea to make 800 kilometer-range missiles.

Previously, the South had voluntary accepted a 300-kilometer limit on the range of its ballistic missiles in exchange for guarantees of a nuclear "umbrella" from the US in case of an atomic attack.

But Seoul kept arguing that the limits must be extended due to the North's nuclear-armed missile program.

The new missiles will enable strikes against the weapons and military installations in the furthest parts of North Korea from any location in the South if necessary, Kim stressed.

"And we're going to make 800-kilometer missiles," the spokesman added, emphasizing Seoul's intention to take maximum advantage of the 2012 deal.

According to AFP, the test-launch was carried out on March 23, just two days ahead of North Korea testing two medium-range ballistic missiles capable of striking targets in Japan.

The military is expected to commission the new missile into service next year, a defense ministry source told the Chosun Ilbo newspaper.

The 500 kilometer range is still shorter than North Korea's major ballistic missiles, but the South's rocket is a lot more accurate.

Its hit radius is just a few dozen meters, while the Scud and Rodong missiles recently tested by Pyongyang have an accuracy ranging from several hundreds meters to a kilometer, the paper stressed.

The thaw in relations between North and South, which saw the sides holding rare high-level talks in February, appeared to be a short one as both sides resumed missile tests.

On Monday, North Korea conducted a live-fire drill along the disputed maritime border, sending over 100 shells into the South's waters. While South Korean forces responded by firing 300 rounds of its own into the North's maritime belt.

Seoul is also investigating two Northern drones that crashed near its border, with evidence suggesting that one of the unmanned aircrafts flew directly over the South's presidential palace.

The two Koreas technically remain at war after the 1950-53 Korean War ended in a truce, rather than a peace treaty.
You can share this story on social media: