S. Korea military drill at disputed islands sparks Japanese outrage (VIDEO)
South Korean military forces have incited the ire of Japan by conducting a 'defensive drill' at an outcrop of islands. Tokyo criticized the drill as 'totally unacceptable.'
Five ships participated in the 8:00 am drill which took place in the Sea of Japan, between the two countries. Among the vessels taking part were 3,200-ton destroyers, a patrol ship, a UH-60 helicopter,  and the South Korean Air Force's F-15K combat jets, according to an anonymous military official who spoke to the Yonhap news agency.

"It is a regular drill aimed at repealing non-military forces that approach Dokdo via a sea or air route," he said.

A Defense Ministry spokesperson later told AFP that the move illustrated "the military's will to defend" the islands.

Japan has protested the drill, with Chief Cabinet Secretary Yoshihide Suga telling a news conference on Friday: "It's totally unacceptable and extremely regrettable."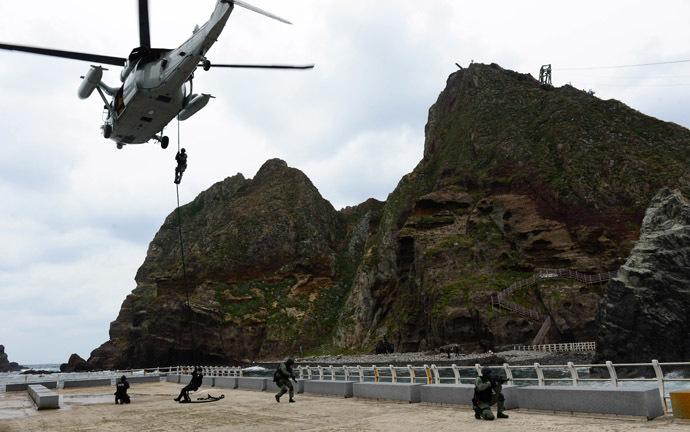 The drill and preliminary row fell around Friday's "Dokdo Day" in South Korea with "Dokdo" referring to the Korean name for the islands, whereas Japan refers to them as "Takeshima." The disputed island grouping is comprised of the two primary islands, surrounded by some 30 smaller rocks.

The 'ownership' of the islands has been a long-standing source of controversy between Seoul and Tokyo, who lay historical territorial claims to the groupings. Earlier in the week, the foreign ministries of both countries took to YouTube to assert their respective claims over the islands, with South Korea demanding that the Japanese Foreign Ministry remove a video which asserted its own sovereignty.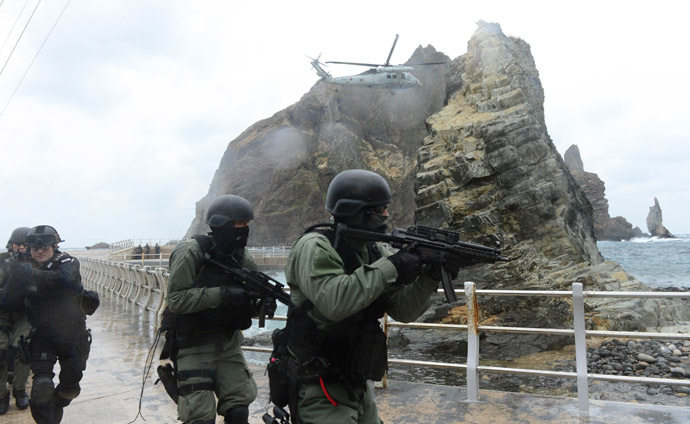 Friday saw flash mobs and festivals sweep Seoul and other South Korean cities to mark the day 113 years ago when South Korea's King Gojong issued a royal decree stating his country's ownership of the islands. A coastguard unit has maintained a presence on the island since 1954.  

Japan holds its own 'Takeshima Day' on February the 22nd; an event which sparked protests in Seoul earlier this year. In 1905, Japan declared the area terra nullius in 1905, stating: "There is no evidence to recognize that this uninhabited island was ever occupied by a foreign country," contrary to South Korea's claim. South Korea accuses Japan of displaying little repentance for its colonial past, especially in regards to the Japanese occupation of the Korean peninsula between 1910 and 1945.

You can share this story on social media: