South Korea elects first female president, daughter of ex-dictator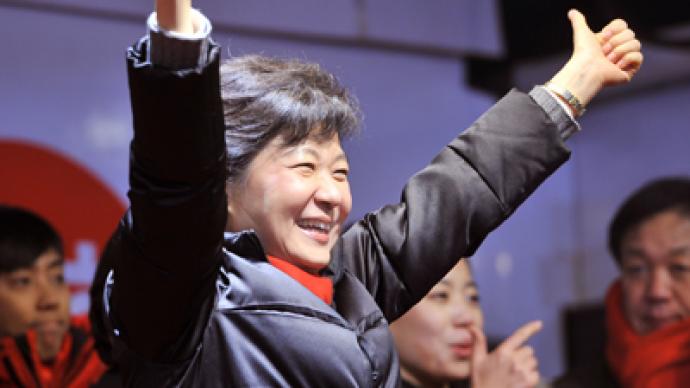 South Korea has elected its first female president in a clear victory for conservative Park Geun-Hye, the daughter of the country's former dictator.
­With more than 70 percent of votes counted so far, the 60-year old Park took almost 52 percent, over 48 percent for her left-wing rival, human rights lawyer Moon Jae-in.Though an official announcement has not been made yet, incumbent president Lee Myung-bak called Park to  congratulate her with the victory."I congratulate you on the victory, the path to which you faced many obstacles to overcome," Lee said.Moon Jae-in has publicly acknowledged his defeat.Park, the leader of the New Frontier Party (NFP), addressed her joyous campaign staff and supporters, who gathered at the party's headquarters following her victory,  cheering and waving the South Korean flag."This is a victory brought by the people's hope for overcoming crisis and economic recovery," she said, addressing a cheering crowd in central Seoul. "I will be a president who fulfills in every way the promises I made to the people."Despite freezing temperatures the election saw a significant turnout, with more than 75 percent of voters casting their ballots – 12 percent higher than the previous presidential election in 2007.  Park will take her seat in the presidential palace for a five-year term starting in February. She has become not only the first female president of the male-dominated nation, but also the first to be related to a former leader. Her father, Park Chung-Hee, was admired and praised for dragging the country out of overwhelming poverty, but also widely criticized for suppressing dissent during his 18-year military rule.The newly elected leader will face numerous challenges as she assumes the presidency, including relations with North Korea. ­New era of diplomacy for Koreas?Both candidates' campaigns pledged to fix the country's widening income gap – which deepened under President Lee – and boost social welfare spending, but took differening stances on dealing with North Korea. The war between North and South Korea came to an end in 1953 with a ceasefire, meaning both countries are technically still at war.Park promises to usher in a new era of diplomacy and revive ties with the North, a departure from President Lee's uncompromising approach. She pledges to hold negotiations over Pyongyang's nuclear weapons program with Kim Jong-un, the North Korean leader who took power after his father Kim Jong-Il died last year. Seoul previously demanded the North give up its nuclear program as a precondition for food aid, which president Lee cut off when he assumed office in 2008. North Korea remains reluctant to meet the South's demand.And while Park insists on the same condition, her rival Moon has been pushing for the resumption of cross-border without reservation.In November, an ambassador from Pyongyang warned the UN that a war between North and South Korea could break out at any moment, and accused Seoul of provoking conflict.North Korea last conducted a military nuclear test in 2009, though it is not widely thought to currently have deployable nuclear weapons.After months of overtures, China-mediated talks aimed at bringing North Korea to the negotiating table on its nuclear program ended with "little progress" almost a year ago. But even without nuclear conflict, the high-stakes rhetoric risks spilling into violence.In November, an ambassador from Pyongyang warned the UN that a war between North and South Korea could break out at any moment, and accused Seoul of instigating conflict and "increased hostilities" towards Pyongyang.Park has vowed to exercise strong leadership to steer the country towards a solution."I have no family to take care of and no children to pass wealth to. You, the people, are my family and your happiness is the reason that I stay in politics," Park said in a televised press conference.
Supporters of South Korea's presidential candidate Park Geun-Hye of the ruling New Frontier Party, react as they watch live TV outside the party's office in Seoul on December 19, 2012 (AFP Photo / Jung Yeon-Je)