South China Sea feud: Beijing rebukes Washington's 'biased' stance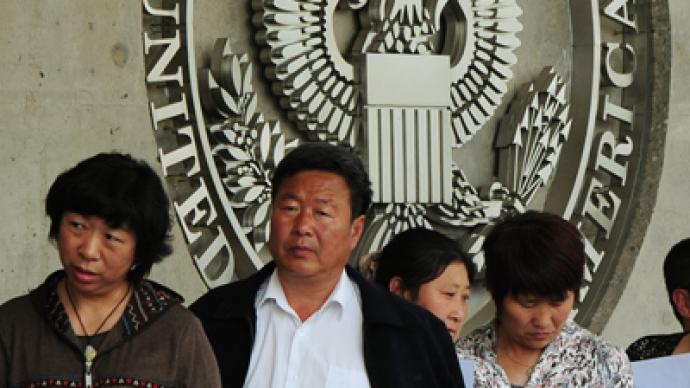 China's Foreign Ministry has called on an American diplomat to protest State Department accusations that Beijing is hindering diplomatic efforts in the South China Sea. It's just the latest controversy in the countries' already tense relationship.
The ministry said on its website that Assistant Foreign Minister Zhang Kunsheng had summoned the US Embassy's Deputy Chief of Mission Robert Wang to present "strong dissatisfaction and firm opposition" to the statement from Washington. On Friday, the State Department said that Beijing's establishment of a military garrison in the area runs against "collaborative diplomatic efforts to resolve differences and risk further escalating tensions in the region," according to Reuters.In the statement, the US voiced support for diplomatic efforts by Southeast Asian nations negotiating with Beijing, who claims virtually all of the South China Sea as its own.But the Philippines has also claimed the territory.And it's no wonder that the sea is coveted by both nations, as its waters and islands are rich in oil and gas.According to China's Ministry of Geological Resources and Mining, the South China Sea may contain up to 17.7 billion tons of crude oil.Ministry spokesman Qin Gang said Friday's remark "completely ignored the facts, deliberately confounded right and wrong, and sent a seriously wrong signal, which is not conducive to the efforts safeguarding the peace and stability of the South China Sea and the Asia Pacific region." Washington's response comes just five days after China established the city of Sansha on a remote island 220 miles from its southernmost province. Sansha is intended to administer hundreds of thousands of square miles of water in an area where China wants to strengthen its control over disputed islands.Since the establishment of Sansha, "the US government and several politicians have repeatedly made irresponsible remarks on the issue, reflecting Washington's attempts to meddle in Asian affairs," China's state-run news agency Xinhua said.The Philippines has called Sansha's creation unacceptable – and it's not the first time the two countries have clashed.Within the South China Sea lies the Scarborough Reef – the site of an intense standoff between Beijing and Manila. The dispute began last April, when Chinese fishing boats were stopped by Philippine vessels at the reef.Manila sent a navy ship to the site, and China responded by sending more vessels of its own. The US backed a mutual withdrawal agreement between the two countries in June. However, Manila says Beijing has broken the agreement by using barriers to block Philippine access to the reef.Washington maintains that it holds a neutral position on the dispute, but Beijing disagrees – mainly because of joint military drills  between the US and the Philippines last April. According to CBS News, the United States has consistently said that it refuses to take sides, although it is obliged to defend the Philippines from outside aggression, under an existing mutual defense treaty.But America's actions have angered China, and Beijing isn't keeping quiet.China accuses the US of trying to isolate it from neighboring nations. "The US selectively takes sides in these disputes. By doing so, Washington intends to alienate China from countries around the South China Sea," Xinhua reported. In July 2010, Secretary of State Hillary Clinton said her country had a "national interest" in the South China Sea. Since then, Washington has taken a series of unilateral actions in the region, according to Xinhua.Earlier this year, US Defense Secretary Leon Panetta announced that he would raise the Navy's Pacific Ocean deployment by 10 per cent.But China has made it clear that it is uninterested in American intervention. The new military garrison in the South China Sea is part of Beijing's response to an increased American military presence in Asia, believes George Koo, the founder of International Strategic Alliances. "China is basically saying, 'Watch your step and don't make any missteps, we are here to respond,'" Koo told RT. "I think China decided that they need to respond, to raise the stakes, so to speak, and that's why they put in the government and the garrison, the troops in the middle of the South China Sea."And as the ongoing debate over the Scarborough Reef continues, the question remains whether the US will work with China and Southeast Asian countries to maintain stability in the Asia-Pacific region – or simply add more fuel to an already blazing fire.
China's 'political heavy-handedness' creating American opportunity
China itself has created an opportunity for the US to unite its allies in the region, encircling China with potentially hostile bases, believes Conn Hallinan, a senior analyst at Foreign Policy in Focus. Such regional tensions could easily escalate into a wider conflict if one side makes a mistake, he told RT.RT: How is the US likely to respond now that China is staking a permanent claim in the South China Sea?  Will this mean more support for regional allies who have some conflict with China?Conn Hallinan: I think there will be. And I think in some ways China has itself acted pretty heavy-handedly in the South China Sea. And they have a policy of trying to negotiate these things country by country instead of sort of dealing with a group of countries. And as a result of this, what's happened is giving the opportunity for a kind of an opening for the United States to come back into this area.So you have this kind of irony of the US Navy now calling on parking ships in Hanoi and allying itself with the Vietnamese after this long and terrible war.I think what you have is a little bit of diplomatic heavy-handedness on the part of the Chinese, and this creates an opportunity for the US to rally local allies there and encircle China with potentially hostile bases.RT: America already has five active bases circling China. Is a Cold War-style stand-off on the cards?CH: I think it is. Now, whether or not it will actually get to the level the Cold War did, say in the 1950s and 60s, I would not go that far, although that's possible. I do think it is quite disturbing. I mean there is growing tension – these are two nuclear-armed powers. This is not in the interest, certainly not in the interest of the United States and China – but for a lot of the other countries in the region. Because one of the things that's happened is lot of these countries have struggled to up their military budgets.These are not countries that can really afford to spend a tremendous amount on the military. They have requirements for education and there's an economic crisis going on, et cetera. And they are putting their resources into military material like the United States and China.So, in a sense I don't think there are any winners here. There are only losers. It does scare me a little bit because someone can make a mistake, and things move awfully fast in this world.  RT: China accuses the US of bias when it comes to other nations' naval vessels threatening Chinese ships. Does Beijing have a valid complaint here?CH: I think they do. I think the Chinese are basically saying that they want to control their home waters, which is understandable. And I also think they want to be able to project naval power to ensure their energy supplies, which means that they have to have a presence in the Indian Ocean so that they can get supplies from Angola, from Sudan, from the Arab Gulf, etc. And I think that they feel they have a right to do this. And the US treats the Chinese as if their navy is a threat to the Chinese Navy. It's not, the Chinese Navy is a small navy, it's nothing like the US Navy.
You can share this story on social media: